Brooklyn indie darling Sharon Van Etten is bringing her unique blend of bluesy singer-songwriter tunes and rock to the Paradise on Sunday in support of her critically acclaimed new album, Tramp. Music Editor Sydney Moyer took a minute to chat with the songstress in anticipation of what's sure to be a solid show on Nov. 11.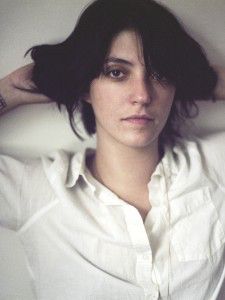 Sydney Moyer:  So it's my understanding that you were kind of homeless for about two years until recently — how did that experience come into the making of your new album, Tramp?
Sharon Van Etten: Well, for most of the album, the writing and the recording part, I was touring, and in my off time, I was crashing at friends' houses or taking on different sublets. So whenever I got a moment alone, it was like I had this inspiration, I had to sit down and write or play or finish a song. It was like I had assignments for myself because I had the moment to myself. And I feel like because I was in so many different places, I was in so many different mindsets that it helped the album, in a way, become a lot more versatile and well-rounded because it had me in so many different frames of mind and literally so many different places that every song really had it its own little world or vibe to it.
SM: Was it hard writing at other people's houses? That can't be easy, especially considering how personal your songs are.
SVE: Yeah, I mean I would literally only play when no one was around, and so it was very rare that I actually got to. So when I did, I just kind of wouldn't stop. I would just play and write as much as I could. I wrote one song when I was crashing with my friend Taylor — he's known me since I was a teenager — so I feel really at ease around him. But mostly, when I'm writing, I can't be around people. I have to be alone. I'm too insecure about it.
SM: Did you like the tumbleweed lifestyle or are you glad to be more settled now?
SVE: Well, it's funny, because now I finally have a home, but I'm never home. Even though I really yearn for that domestic lifestyle and it gets really hard traveling all the time, I feel like there's a secret side of myself that really loves traveling. But really, I can't wait to just be home and be mellow — it's fun to travel and meet people and go to places for now though. But I can't wait to have a break and be more stable.
SM: There's a constant forlorn quality to your music — do you always have to be sad to write? To play and perform live?
SVE: Well, when I write, it's usually just when I'm going through a hard time. And I've been trying to get out of the habit of doing that, but when I started writing, it was just to get through it, you know? It wasn't really meant for anyone to hear. I would just write for me. It was a form of therapy. And I would hate to be the person that says you have to be sad to write. I'd like to be some kind of positive role model, you know, because you don't want that to be the message. But for me, I feel like I am the most prolific when I am going through a hard time, but I'm trying to get out of that cycle because everything in my life is pretty good right now, and if that's the case, I'm not going to have much of a career [laughs].
SM: Did you always know you wanted to be a musician?
SVE: I mean, I don't know. I feel like I tried a lot of paths. I knew I wanted to be something involving music — I took lessons when I was growing up, I did musicals, I was in choir, I met other people that played music and encouraged me to do open mics, and I started doing that just for fun. Like really not thinking it would ever amount to anything. But when I realized how my songs were affecting other people, that's when I felt like it was something that could be a reality. You know, because if it's just therapeutic for me, there's no point in me sharing it with other people. But the fact that it was helping other people too, and that people were responding to it, that's what made me want to pursue it more. But I was working a job and touring so much, that I realized I couldn't do both. So I decided to just give it a shot and do music full-time as opposed to my job full-time, and I haven't had a full-time job outside of music for almost two years now!
SM: So your fans really, really connect with your music on an emotional level, and your lyrics tend to remain ambiguous despite the intensely personal vibe of your musical style — where do you draw songwriting inspiration from? Are they autobiographical?
SVE: I mean, I feel like on some level, yes, all of my songs are autobiographical, but whether they're about my friends or family, it's always about something going on in my life, and I try to turn that into a really kind of general experience. Because it's easier to have a connection with the audience that's more like a conversation than a story. But I would eventually like to get out of that frame of mind and write more stories and separate myself from the process more.
SM: Tramp is much more fleshed out instrumentation-wise than your earlier stuff — would you call that a natural progression? What made you go in that direction?
SVE:  Yeah, I would say it's definitely a natural progression. I wanted to try something new. I wanted to develop the songs more. I wanted to work one on one with someone to help me reinterpret songs instead of me just dictating to other people the whole time. I don't know if, production-wise, my [next] album is gonna grow from that, or whether it's gonna be more writing style changes, but within the same production mindset as Tramp. But my only goal is for every new record to feel different, to sound different, and to try new things.
SM: What are your plans for the future? Got any new tunes rattling around?
SVE: Well, we're touring until January, and I've got some new songs I've been working on. I can't wait to get into the studio to work on them with the band and to write as a band, because it's been a long time since I've felt comfortable enough, actually. I've never really felt comfortable enough to write with other people. But now I'm finally in a place with the band where I feel like I'm not so insecure. We've been touring for a year, and we're all kind of cut from the same cloth, and they get me. So I'm really looking forward to writing as a band for the first time, and I'm hoping that's what we get to do at the beginning of next year. We're gonna take a quick break after we do a European tour in December, Australia at the end of December into January. Then after we get back we'll take a little time off.