Recent data suggests that more youth voters turned up at voting booths on Tuesday than in 2008, despite the challenges younger voters face of learning state-specific voting requirements.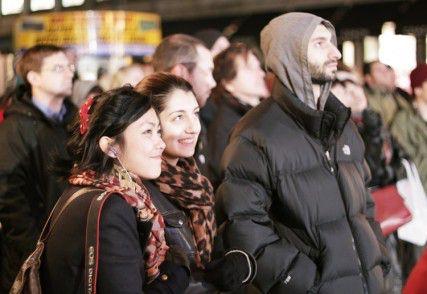 Nineteen percent of voters younger than 30 cast their ballots in the 2012 election, representing a 1-percent increase from 2008, according to a press release from the Fair Elections Legal Network.
"What's kind of remarkable is that how everybody talked about this enthusiasm gap from 2008 — that youth weren't as engaged in this election," said Josh Spaulding, policy manager at the Fair Elections Legal Network. "And the numbers are showing that the youth turned out in record numbers."
Initial returns suggest that between 31 and 32 million people under the age of 30 turned out on Tuesday, Spaulding said.
Several college campuses had record student turnouts on Election Day, according to the press release.
The Fair Election Legal Network campaigned in the months leading up to the election, reaching out to universities to educate students about registration deadlines, polling places, early voting policies and absentee ballot information, Spaulding said.
The campaign included voter registration drives as well as social media outreach and public service announcements in college newspapers, he said.
Spaulding said youth in certain states faced barriers of regulation that made it difficult to stay on top of registration requirements.
"They need the information, and we have a lot more avenues to get young people, particularly students, the information they need to register in the communities and turn out and vote," Spaulding said.
Targeted states included the swing states of North Carolina, Pennsylvania and Ohio, although Spaulding said that was due to more difficult registration guidelines, especially with new voter ID laws.
"Students need to know what options they have, and whether they can use their student ID to vote," Spaulding said. "We put a lot of resources into that. While student IDs can be voter ID for students at the polls [in North Carolina], the law is written in such a way that only 17 percent of the schools issued an ID that would work."
Although Spaulding said some swing-state voters faced challenges in exercising their right to vote, some Boston University students said registering to vote was fairly straightforward.
Hayley McNutt, a freshman in the College of Arts and Sciences, first registered at her high school in Maryland.
"It was incredibly easy to register," said McNutt, who voted by absentee ballot. "We actually had a day in school when they had everyone who would be 18 for the next election fill out a paper and they would send them in for us."
McNutt said the feeling of voting for the first was sublime.
"Anyone who doesn't think their vote counts is so wrong," she said.
College of Engineering junior Caroline Ekchian, a Massachusetts resident, said it was her first time voting in a presidential election.
"I registered when I turned 18 at home," she said. "It wasn't too hard."
Corey Angers, a sophomore in the College of Arts and Sciences, said he ran into some trouble registering in his home state of Massachusetts.
"The Registry of Motor Vehicles is really terrible, so they didn't process my request, so I had to sign up to vote again," he said.
Still, he said once he went online, he figured out everything he had to do to register.
"It was pretty easy," he said. "All I had to do was call up a person and mail in a card."
Spaulding said that with increasing youth turnout, politicians would react with more policy tailored for them.
"We will hopefully end up seeing politicians really focusing and paying attention to what young people actually care about," he said. "Clearly one of the biggest voting blocks for Obama was the youth vote. He received well over 60 percent of the youth vote."