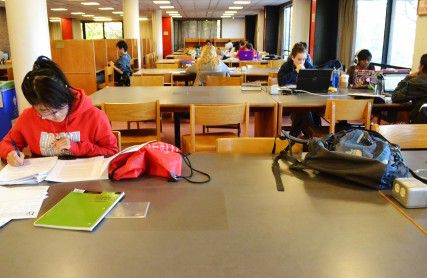 Boston University's Mugar Memorial Library is experiencing more use in the fall 2012 semester, especially by undergraduate students, librarians and students said.
"Definitely over the past few years, there's been greater use in the library," said Barbara Maratos, a reference librarian at Mugar. "Once we renovated, we have all of the IT computers, as well as wireless Internet, so that definitely created a draw."
Tom Casserly, the associate university librarian for undergraduate and distance learning, said he saw an increase in library patrons after Mugar added 200 computers in 2009.
"There are a lot of resources at the library people in college need," said Pam Riviere, a College of Arts and Sciences sophomore. "If you live off campus without Internet, you could always come over."
Kevin Mannix, a College of Engineering sophomore, said he has found himself and his friends going to Mugar more often.
"I don't know if the GSU has an impact on people using the library, but I think that people in the library see it closer to food and closer to City Co., so they'll feel comfortable to stay there longer," he said.
The new entrance located inside the George Sherman Union Link, added over the summer, changes the availability of access to the library, Maratos said.
"You could go from the library over to the food court — that may be popular," she said. "I would say it draws a lot more undergrad students."
Jesse Galko, a College of Communication  senior, said the new entrance is more attractive to students, which might be the reason the library seems more packed than in past years.
Galko said he uses the library primarily when he needs to print papers for class.
"A lot of people need the print quota," he said. "Most people don't have printers in their dorm rooms."
Riviere said the change in the bag-checking policy might also have had an effect.
"Now we don't have bag checks, so maybe more people are encouraged to come because we don't have that annoying step," she said.
Casserly said Mugar employs a team of work-study students called the Mugar Green Scholars who work on social media, publicity and student accessibility of the library.
"They help the library with the communications program and also engage students in their everyday academic life," he said.
Mugar advertisements are geared toward the undergraduate study body, rather than the graduate students, Casserly said.
"It's a very different population [graduate students], with some very strong observation and needs that don't always perfectly match with undergraduate needs," he said.
Galko said the upper floors with the graduate student offices are more suitable for graduate students who probably use the books more. However, undergraduate students use the library more for use of the computers and study space.
Reena Razdan, a CAS freshman, said she goes to the library once a week for a quiet study space.
"People like coming to the library just because it's a quiet space to work," she said. "I generally see more undergrads here though."
Ye Guo, a School of Education graduate student, said he has recognized an increase in the amount of undergraduate students in the library this year.
Arailym Nurmasheva, a CAS junior, said she has not seen an increase in student use of Mugar this semester.
"It's the biggest library on campus," she said. "So almost everyone comes here anyways."