As representative of the newly drawn Seventh District, U.S. Rep. Mike Capuano has thousands of students from more than 35 colleges to consider in Congress — including Boston University.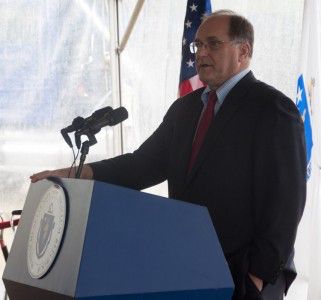 Capuano, a Democrat, was re-elected on Tuesday with 84 percent of the vote, adding another term to his seven terms in Congress.
Capuano represents the Eighth District as one of the Commonwealth's 10 representatives, but will represent the Seventh District as one of nine total Massachusetts representatives in the upcoming 113th Congress.
While Capuano represents 32 colleges in his current Eighth District, the new Seventh District will include 36, he said.
Capuano said some of the issues he faces that affect college students are education funding, financial policy and transportation.
"You name it, we deal with it," Capuano said about the breadth of topics covered in legislation for his district. "And every bit of it affects every single student at the school [Boston University]."
Not much changes in the newly drawn districts for Capuano, who said 80 percent of the new Seventh District is in the district he represented before districts shifted.
The new Seventh District encompasses Chelsea, Everett, Somerville, as well as much of Boston and Cambridge.
"It's mostly the same thing I've been doing for quite a while now," he said.
The former Somerville mayor has spent his time in Congress addressing student debt and funding for higher education.
In 2009, Capuano voted for a bill that simplified the Free Application for Federal Student Aid and extended Pell Grants for students applying to colleges and universities.
This bill maximized Pell Grants to $5,500 and directed all funding for the student loan program through the Direct Loan Program, according to his website.
"I'm pretty familiar with BU," Capuano said. "I'm out there quite often. I work with the administration as well as possible."
Capuano said he has advocated improvement to Commonwealth Avenue as well as brought federal funds to BU over the past few years.
"There's been a lot of federal money that goes to BU," he said. "Mostly research dollars and indirect money to subsidize students."
As a representative of 14 years, Capuano has served on the House Committee on Transportation and Infrastructure, during which time he voted for legislation to increase state funds for infrastructure projects, especially highways.
Capuano also supports an extension of the Green Line branch of the Massachusetts Bay Transportation Authority and has worked to improve bike and pedestrian safety on Commonwealth Avenue, according to his website.
While on the House Committee on Financial Services, Capuano voted in support of the Dodd-Frank Act, which provided more power to the Securities and Exchange Commission and gave the government more oversight in the financial sector.
On national issues, Capuano is an advocate for women's rights to choose abortion, marriage equality and public health insurance.
He opposes the death penalty and voted against the war in Iraq, according to his website.
But Capuano also keeps international issues on the table — he is an outspoken advocate against slavery practices and genocide in Sudan, becoming aware of the atrocities there after meeting a victim of slavery in 2002, according to his website. He co-founded the Congressional Caucus on Sudan in October of 2005.
"We're just trying to keep our eye on it and do our best to make sure it doesn't fall apart and people will not be slaughtered," Capuano said. "We've had some success, but we haven't had all the success we would like to have. It's still a very dangerous region."
Capuano's landslide victory is among a string of Democratic victories throughout the state and nation, as Sen.-elect Elizabeth Warren took the seat from Republican U.S. Sen. Scott Brown.
Capuano said he hopes the re-election of President Barack Obama and Warren's win will lead to a more productive Congress.
"I generally agree with them philosophically, so my hope is that it will help to move the agenda forward … For instance, in BU's case, trying to make sure that education is affordable as best we can," he said. "Things like Pell Grants, things like student interest loans — those kinds of things."