Standing amid a crowd on Boylston Street on Sunday, New Hampshire resident Colleen McCormack-Lane said that being at the Boston's Veterans Day parade allows her to show support for her father, who passed away in 2011.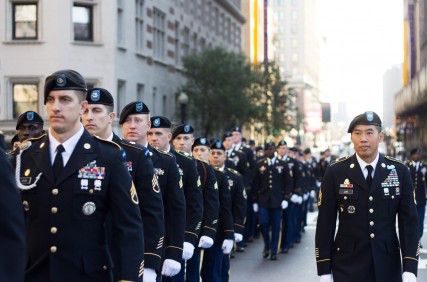 "It's emotional … It's very important to us," said McCormack-Lane, whose father served in World War II, the Korean War and the Vietnam War.
She said she and her husband were attending the parade in his honor.
Hundreds of observers turned out to celebrate the parade march from the city's theatre district to Faneuil Hall, lining the intersection of Boylston Street and Tremont Street by the Boston Common to watch it begin.
The American Legion sponsored the parade, which featured ROTC groups, military units, honorary militias, marching bands and veterans' organizations.
Veterans Day, a national holiday, marks a three-day weekend for a number of workers across the country.
The parade also featured military representation from Boston and various towns across Massachusetts.
Residents and visitors alike came out to support family members who had served the country.
Tim Dawson, who lives in Boston, said he comes to the parade every year to honor U.S. veterans.
"I'm a free man. I depend on them [people who serve]," Dawson said. "I have family that is in the service."
Brian Upperman, who lives in Plymouth, said he attended the Boston Veteran's Day Parade because it is well coordinated.
"It's the oldest, and one of the best," Upperman said.
Upperman, who is planning a cookout for the work holiday on Monday, said a lot of people in his family have served in the military and they are under-appreciated.
"Since 9/11, they have been appreciated more, but I think that we're back on the downswing," he said. "You know, it's one day a year you have to do what you can."
Thomas Costello, a Brookline resident and U.S. Navy veteran in the crowd, said Veteran's Day is important to him and his friends from the Navy.
Costello said it was his first time at the Boston parade.
"I'm from New York City, so I usually go to the one on 5th Avenue," Costello said. "It's a little bigger than this."
After the American Legion parade turned the corner and began to make its way downtown, an anti-war group called Veterans for Peace began their own separate march.
Veterans for Peace has consistently fought to be included in Veterans Day parades across the country, bringing lawsuit in Auburn, Wash., to march in the city of Auburn's parade.
Across the city, other remembrances honored members of a group that is often overlooked.
Mass. Gov. Deval Patrick, Lt. Gov. Timothy Murray and Department of Veterans' Services Secretary Coleman Nee remembered veterans on Sunday at a ceremony.
Raytheon Company, based in Waltham, announced a donation of $50,000 to the Student Veterans of America to "help empower student veterans to attain their higher education goals," according to a Raytheon Company press release from Sunday.
Raytheon also donated 150 New England Patriot tickets to veterans for Sunday's game against the Buffalo Bills.
A Boston Police sergeant and marine veteran who asked to remain anonymous said he was disappointed in the turnout of the parade and how little it was publicized.
"As you see from the crowd, it doesn't mean much to the people at all anymore," he said. "If you spent four years [serving] like I did, maybe you'd remember."
The sergeant said it was difficult to organize the Veterans Day parade in the middle of downtown Boston.
"People are upset that we're having a parade and blocking the traffic," he said.
The sergeant said Boston considered canceling the parade due to lack of interest five years ago and that Michael Graham, a radio DJ on 96.9 FM, saved the parade by raising money.
"We wouldn't be here if it weren't for that," he said.