In its second game of the 2012–13 season, the Boston University men's basketball team had a difficult first half against Canisius College and never found rhythm as the Terriers lost to the Golden Griffins, 75–83.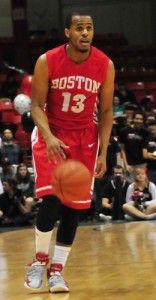 "There were a lot of little things in this game that we just didn't do," said BU coach Joe Jones. "We have to make the plays late and we have to get bigger contributions from guys that we are dependent on. That's the bottom line."
Despite the lackluster 5–25 record put up by Canisius during the 2011–12 season, Jones said he and his team knew better than to expect an easy victory from Monday's matchup.
"They are a much different team than they were last year," Jones said. "They got three transfers that are all starters, and they got a kid on the bench who was a starter last year and their second leading scorer. They are a much different team, a very talented team and a better offensive team than Northeastern. They are not what people are going to think. They are a very good offensive team."
Canisius (1–0) started strong, opening the game on an 11–2 run in which it outplayed the Terriers both offensively and defensively. The Terriers (0–2) cut the deficit to four midway through the first half thanks to six points down low from junior forward Dom Morris.
The Golden Griffins then went on another run after making BU pay for turning the ball over. They scored 11 points off of Terrier turnovers. Freshman guard Maurice Watson Jr. and junior guard D.J. Irving both had two first half turnovers.
Since they were unable score for three minutes and were outrebounded on both ends of the court, the Terriers found themselves down by 10 with four minutes to go in the half.
Canisius' 3-point shooting was strong in the first half as it hit seven shots from beyond the arc. Guard Harold Washington, Canisius' leading scorer last year, led the Golden Griffins with 15 points in the first half including three 3-pointers. Additionally, guard Billy Baron added seven first half points to give Canisius a 38–28 halftime lead.
Irving picked his game up in the second half, nailing six shots for BU. But the Terriers still trailed the Golden Griffins.
Twelve minutes into the second frame, Canisius opened its largest lead of the night at 57–44. Momentum went back and forth during the middle portion of the second half. The teams exchanged 3-pointers and eventually BU found itself down just seven points with four minutes left.
Morris, who was in foul trouble, struggled to make an impact in the second half for BU.
"It's early in the year," Jones said. "Dom is a terrific player and I'm sure against George Washington, he will be ready to go."
Late in the second half, freshman guard John Papale found his stroke. He started hitting shots from beyond the arc and, with the help of a clutch three from Irving, brought BU back into the game with only three minutes left.
"[Papale is] a terrific shooter," Jones said. "He's a tough kid. He's got a chance to be very, very good and we knew that coming in."
Momentum then swung back in Canisius' direction and the Golden Griffins kept it for the rest of the game. At the final buzzer, the Terriers had fallen for the second time in as many games on the season.
BU's next game will be its home opener at Case Gym against George Washington University on Saturday Nov. 17 at 1 p.m.