Faced with a potential $84-million deficit for the fiscal year of 2013, the Massachusetts Bay Transportation Authority struggles to find a solution to a growing financial crisis as officials signal that another round of fare hikes and service cuts could be implemented.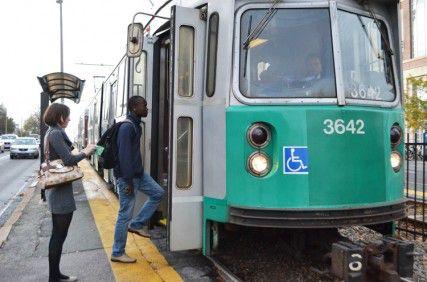 "Implementing these increases and other minor changes has obviously helped cut the debt, if by a minimal amount," said Massachusetts Department of Transportation spokeswoman Sara Lavoie. "It may be necessary to repeat them while more definite plans are being formed."
Despite recent fare increases, ridership on the MBTA continues to rise.
Contrary to an originally projected drop in overall usage, bus ridership was up 2.3 percent while subway ridership increased by 3 percent in September, according to the MBTA website.
But while the importance of the public transportation system remains high, it will do little to help with the deficit, said MBTA spokesman Joe Pesaturo in an email.
"The recent increases in ridership have little impact on the MBTA's structural financial crisis," he said. "But the numbers make it abundantly clear that the MBTA plays a critical role in not only moving people, but also in moving the economy forward."
Pesaturo said a plethora of short-term bandages will not revive the MBTA, and a long-term plan is necessary.
"It will be difficult to maintain satisfactory levels of service without a long-term fix that addresses the MBTA's budget problems," Pesaturo said. "Without a permanent remedy, the MBTA is going to face growing budget deficits each and every year."
As part of its short-term solutions, the MBTA recently imposed a 23-percent fare increase to help curb the debt.
Other proposed solutions have included the reduction of energy costs, introduction of single-person train operation on the Red Line and enrolling more MBTA employees in a lower-cost health care plan, according to an information booklet on the MBTA's website.
Previous changes have also garnered savings for the system over the years — the MBTA expanded single-person train operation to the Blue and Orange Lines in 1996 and 2010, respectively, and initiated the CharlieCard system in 2007.
"In addition to listening to the public at meetings throughout the state, MassDOT and MBTA officials have been talking with state legislators about possible solutions," Pesaturo said.
City officials stressed importance of the MBTA, especially to those working within the city limits.
"There are many people who live in the suburbs who depend on the MBTA bus and subway systems to get to and from work every single day," said Thomas Tinlin, commissioner of the Boston Transportation Department . "There will always be a high demand for the use of the MBTA."
One ride on the T with a CharlieCard costs $2 and includes a free transfer to a local bus, while fare for a CharlieTicket costs $2.50.
Although thousands of commuters in the city rely on the T, some Boston University students said another fare hike would deter them from taking public transportation.
Manasa Kanneganti, a post-graduate BU School of Medicine student, said a potential increase in fares would definitely cut down on her T usage.
"I would not take the T if it got up to $2.50 a ride," she said. "I'm a student, I don't have that kind of money. At that point I could probably take a cab for cheaper."
College of Arts and Sciences freshman Gabrielle Bull said she would probably not take the T if prices increased again.
"I usually only go to Newbury on it anyway, and that's not worth spending like $5," she said. "I'd just walk more."
School of Management senior Jimmy Barry said he does not use the T too much, so another fare increase would not change his habits because he would be willing to splurge on the T once in a while.
"If they kept increasing it though, to maybe above $2.50 or around there, I would probably never take the T," he said.