The Boston University men's basketball team has gone winless in its first two games, dropping a last-second thriller to Northeastern University before losing to Canisius College 83–75 on Monday night.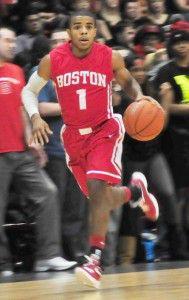 BU coach Joe Jones said while those two teams do not boast a national ranking, they are each extremely tough opponents.
"A lot of the times you have to look at the teams you play more than anything," Jones said. "We played two of the better teams in their leagues. We could have played two lesser teams and be 2–0 right now and what does that mean? We are playing a schedule that's more challenging than anybody else in our league."
The competition will remain tough when the Terriers play George Washington University (0–1) this weekend and then travel to New Brunswick, N.J., to play Rutgers University (1–1).
Youth
For a team that has no seniors on scholarship, the Terriers have relied heavily on the play of their freshmen thus far.
Freshman guard Maurice Watson Jr., ranked 92nd in ESPN's top national high school basketball recruits of his class, has started both games at point guard for the Terriers. He currently leads the team in assists with 11.
Freshman forward Nathan Dieudonne has started the first two games down low. He was the team leader in rebounds against Northeastern, pulling down nine boards.
Coming off the bench, freshman guard John Papale, has made big shots for BU from behind the 3–point arc. He is second on the team in scoring and leads the team in 3-point field goals.
Freshman forward Justin Alston has seen action in both games, scoring his first collegiate basket Monday night at Canisius.
"[The freshmen] are all doing very well," Jones said. "They are all contributing. They are all great kids. They all want to contribute to a winner and they all want to win — that's the most important thing to them and they play that way."
Jones praised the play of the freshmen, but also noted that time and experience will help them improve their play.
"Sometimes when you are a young player you get quick feet and you start moving a little quicker than you want," Jones said. "The games need to slow down for you. That's something I think we can get better at. We just need some game experience and need to understand some things better, but I'm happy with their effort."
Speed and transition
The Terriers are a team that lacks significant size down low. However, they make up for that shortcoming with two quick guards in Watson and junior captain DJ Irving.
Irving, with his team-leading 38 points, and Watson have been leading the BU offense.
"We have two great weapons on the perimeter in terms of Mo [Watson] and DJ [Irving]," Jones said. "Both those guys are really hard to contain off the dribble. So when they are in there and able to make some plays for themselves, it puts a lot of pressure on the defense."
Improvement
The Terriers have been less focused on their winless record and more focused on what they can continue to do well and what they need to improve on.
"As a unit, we need to do some things that we clearly didn't do in the first two games," Jones said. "We need to take a hard look and say, 'Okay, these are the things we did well in the first two games. Let's continue to do those, but let's also concentrate on fixing the areas that will give us a better chance to win.'"
Jones said the team needs to improve on its defense by bettering its positioning and getting around off-ball screens.
The Terriers were a couple of big defensive stops away from gaining the lead against the Golden Griffins and potentially coming away with a win.