With only 80 minutes of play under its belt this season, the Boston University women's basketball team (1–1) is already showing trends.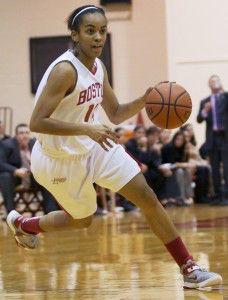 BU opened its season last Friday with a victory against Boston College (0–1) and then lost Monday night against No. 14/19 West Virginia University (2–0). The stat sheets show the Terriers' inconsistency over their first two games.
Certain BU players have shone on defense. Some have consistently been key starters, and others have set records. However, according to BU coach Kelly Greenberg, three major factors have played a part early on in this season.
Opening at home
For the first time under Greenberg, the Terriers start their season with three consecutive home games. Case Gymnasium nearly filled for Friday's victory over BC, and it echoed with "Go BU" chants Monday in the nail-biting loss to WVU. This Friday it will serve as the venue of the Terriers' matchup with the University of Richmond (1–1).
Even after the three games, BU travels to next-door neighbor Northeastern University (0–1). Greenberg said that for a team that only lost one game at home last season, the ability to start off with a positive atmosphere has greatly benefitted the Terriers.
"We've always had a pretty big presence on our home court," Greenberg said. "We don't have to worry about travel plans and who's doing what … [We're able] to focus just on our opponents."
Free throws
BU's loss on Monday night was decided by three points. Had it converted on more of its free throws — the team missed seven in the game — it would have had a better chance to win.
Even though they were 6-for-6 from the line in the first half against WVU, the Terriers have otherwise struggled with free throws. In the second half of that same game, they went 11-for-18. In the game against BC, they missed over half of their 21 free throws.
In only 80 minutes, they have cost themselves 18 points because of missed free throws.
"Friday night we won despite [the missed free throws] and [Monday] night, we lost," Greenberg said. "[Free throws] were certainly one of the reasons that hurt our chances … we beat ourselves a little bit."
With a field goal conversion percentage of 37.5 percent and a 35 percent 3-point conversion rate, the Terriers are still an offensive threat, but points at the line remain a problem.
"We just have to keep at it," Greenberg said. "It can become mental if you talk about it too much, so we'll just get better game by game."
Seniors
Against WVU, the three starting seniors dominated the floor.
Guard Mo Moran led the team in assists, tied for the team lead in steals and was second in scoring.
Fellow guard Kristin Sims tied Moran for the most steals. Sims also tied for the most 3-point shots made.
The final senior guard, Chantell Alford, scored a career-high 30 points and led the team in rebounds with nine.
So far, these three seniors have contributed 75 of the team's 109 points and 26 of its 68 rebounds.
"You really always hope for seniors who love playing, [to whom] BU basketball means everything. And, for [our seniors,] it really does," Greenberg said. "They always take [every game] personally, like it's their last game.
"They play like they're never going to have this opportunity again in their life. And so far, they're 2-for-2 for being mentally prepared and playing at a really high intensity … They're playing thinking 'we're going to go out on top,' and they're really doing it."