With multiple high-profile safety incidents occurring on and near Boston University's Charles River Campus since September, including armed robberies and two bodies found in the Charles River, BU Police Department's annual Safety Week is receiving more attention than in years past, officials said.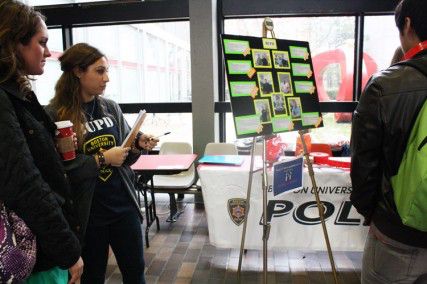 "Often times these things [safety issues] happen and everyone is concerned, but once it's over it fades away for people and it's not up there in their priority list," said BUPD Captain Robert Molloy. "We're hoping we get more people involved."
Molloy said one goal of 2012's Safety Week is to teach students how to be vigilant while walking around the city.
"We have various things including demonstrations and different strategies and ways to prevent yourself from becoming a victim," he said.
In light of the robberies and bodies in the river in September and October, Molloy said, students have been seeking more information on safety.
"We encourage people to follow us on the Twitter account because we do crime updates on that," he said. "We've had more followers, and we've had more hits on our website. People have been coming in and looking at crime data, so there may be a little more interest going on."
Molloy said BUPD has adjusted their strategies to address safety concerns highlighted by these crimes, especially in the Brookline area.
"Anytime something comes up like the robberies that have occurred, we obviously change our strategies and how we're going to approach those things," he said.
Dan Sullivan, a School of Management senior, said while safety is an important issue on campus, recent incidents make BUPD's Safety Week more important than ever.
"It's an important issue every semester, but especially with the recent armed robberies and things going on, it [safety on campus] is definitely on a lot of people's minds," he said. "It's definitely a good time to do this."
Dejeanne Doublet, a College of Arts and Sciences senior, said it is important for BUPD to remind students exactly who to contact in cases of emergency.
"If you're out in the streets and it's not necessarily an emergency where you'd call 911 but you do feel threatened, it's good to know that you can text the BUPD and they'll respond if you're on campus," she said.
Doublet, who lives off campus in Allston, said she feels less safe in her neighborhood than she does on campus.
"I feel safe on campus, but I do live in Allston, and once I leave campus that's when things get a little sketchy and I feel a little more unsafe," she said. "BUPD, they don't actually have authority to go into Allston just in case you need them so in those cases you have to contact the Boston police."
Samantha Trachten, a College of Communication senior and an account supervisor through the Public Relations Lab, which helped BUPD organize the week, said she hopes BUPD and students could improve their relationship during Safety Week.
"Students were a little frustrated [with safety concerns]," she said. "I hope they come back here and get to know the cops on a more friendly level, get the information."
Margaret Waterman contributed to the reporting of this article.