Brooklyn-based singer-songwriter Sharon Van Etten brought her melancholic folk-rock to the Paradise on Sunday night on the last leg of her tour for her latest album, Tramp.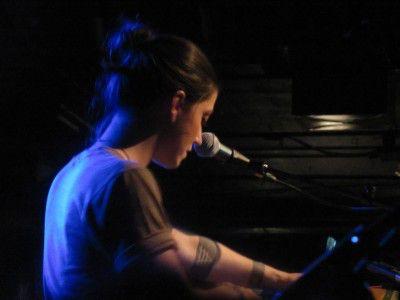 Van Etten seemed confident and cohesive with her band as a unit. Among her three albums, released over the past four years, Tramp seems the most muscular and mature. The band warmed up to the crowd quickly as well. Van Etten commented about halfway through the set that the crowd's vibe was "exactly what we need right now." She then said she was justified in saying the word "vibe" because "someone gave me crystals in Vermont yesterday," an anecdote that was met with much laughter from the audience.
Van Etten kept up a rapport with the crowd throughout the show as she methodically went through songs like the powerfully hypnotizing single "Serpents," and folky wanderlust ballad "Save Yourself," before closing with the famously covered 2010 single "Love More".
Van Etten even performed a stirring rendition of old tune "Tornado" after calling out to the crowd, "This one's an oldie…s—t, what was the girl's name who wrote me on Facebook? Lauren? This one's for you, Lauren."
The musician seemed genuinely grateful to her fans and maintained the friendly banter with the crowd throughout the night. There are times stage banter seems contrived and generally annoying, but Van Etten seemed to invite the crowd into her living room, regaling the Paradise with tales of ex-boyfriends and road stories between ballads.
While these ballads sounded full and multi-faceted with the band, Van Etten's talent shone through most poignantly when the band left her to take the stage solo. Most notably, she performed an as-yet-unrecorded tune with the ferocity of Patti Smith and the emotive release of Joni Mitchell. As female singer-songwriters go, Van Etten is definitely one of the most sophisticated in the game today, and it was clear from her rendition of her new song that she has the potential to be one of the greats.
When I interviewed her last week, she said that she was hoping to get back into the studio sometime early next year and record with her band. I have the highest of hopes for this new album's foray into greatness, especially after seeing a glimpse of it in Boston. Van Etten is slowly but surely proving herself to be one of the most talented players in indie rock right now, and if Sunday's show is any indicator, she's not going anywhere anytime soon.