A new Massachusetts Bay Transportation Authority smartphone ticket app has garnered about 8,000 downloads from commuter rail customers since its launch on Nov. 12, according to the T's Director of Innovation Joshua Robin.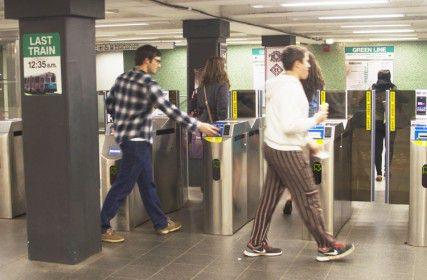 "Customers, with their smartphones, can buy and use tickets directly from their phone," Robin said. "The phone will act like the vending machines with tickets — it's very, very simple … The ticket ends up on your phone literally within seconds."
Users of the app are only able to purchase tickets for the North Station commuter rail system, but the authority has a long-term plan to advance this technology and incorporate other transit conponents of the MBTA system.
"Our vision is, over time, we want to get more parts of the system able to able to be paid with the phone," he said. "It will be a number of years before that happens … Based on the excitement we've already heard from our riders, we definitely want to move toward mobile in other areas from here."
Robin said the main sources of motivation for implementing a mobile system of payment were the potential improvement of efficiency and the increase in convenience for riders.
Michelle Maso, a 29-year-old Apple employee from Cambridge, said she does not ride the commuter rail enough use the app, but that she would consider downloading it otherwise.
"I don't ride [the commuter rail] too often, but if I were going to ride it, it sounds like it would be easier … than going to a machine and waiting in line," she said.
Maso also said she perceived potential ecological benefits stemming from widespread use of the app.
"It would definitely be saving paper, so that's always a good thing," she said. "And it sounds like it would be easy [to use], but it depends on how well the app is made."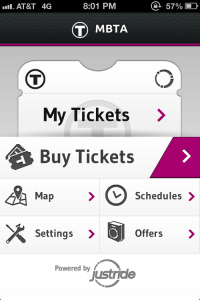 Weslie Turner, a freelance social media consultant from Newton, said she had heard of the app, but had not yet downloaded it.
"I was waiting to hear more reviews for it before I put it on my smartphone," Turner said. "It will definitely be more convenient for commuters. I've often wished there was a way for me to load my card before I left the house."
Julian Paul Costa, a junior in the School of Management and frequent rider of the T, said he saw potential in the expansion of the mobile innovation.
"Instead of having to wait in lines to refill your card, if you could just do it on the fly that would be great," Costa said.
Robin also said the next phase in the process is incorporating a mobile ticket system for South Station.