Despite President Barack Obama's plans to reduce student loan debt, Boston University experts said they are unsure how the federal government will be able to fix the growing student debt crisis.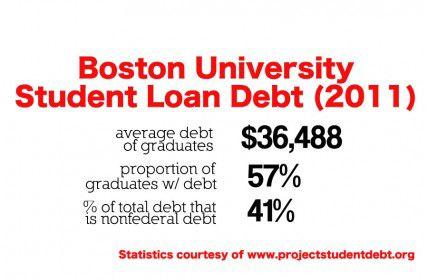 Economics professor Kevin Lang said while concerns about student costs must be addressed, these concerns are not as immediately dangerous as the real estate and mortgage crises.
"The concerns about the student debt are real, particularly for the individuals," he said. "For the economy as a whole, student debt doesn't pose the same kind of threat that real estate debt does. The government's not going to go bankrupt if the default rate goes up a few percentage points. The price of students, since we don't buy and sell them, is not going to collapse."
In 2010, Obama helped pass the Health Care and Education Reconciliation Act, which set into motion a plan to double the amount of funding for Federal Pell Grants, according to the White House website.
Obama campaigned on a debt-relief plan that would ask for a lower percentage of the borrower's discretionary income.
Lang said if universities wish to lower tuition costs to help address the student debt crisis, they might lose prestige and students may lose certain benefits.
"Universities are very labor-intensive, and so to keep prices down you mostly have to either economize on labor or pay labor less," he said. "To the extent that having less labor means having bigger classes, that's not where elite students want to go. Paying labor less means having fewer research-oriented faculty."
The national average student loan debt was $26,600 per borrower for Class of 2011 graduates, according to statistics released Oct. 18. by The Institute for College Access & Success. At BU, the average debt for Class of 2011 graduates was $36,488, TICAS reported.
The standard BU tuition rate for the 2012–13 academic year was $42,400, compared to $40,848 for the 2011–12 academic year, according to the BU budget.
The rising costs of college may be due to an increasing focus on research-oriented universities, an explosion of endowments at a set of elite institutions and the increasing inequality in the U.S. income distribution, Lang said.
Joel Scott, a School of Education professor, said the development of college education has contributed to rising costs.
"The demand for services has increased significantly in the last decade or two from what students expect out of their experience," he said. "Students don't just look at schools anymore and think great academics — they think about the social side of it, which I support. I think that's part of the holistic experience, but that costs money too."
Though college is becoming increasingly more expensive, universities in the U.S. provide far more supports and services to students than those in other countries, said SED professor Charles Glenn. Only about half of the average U.S. university's faculty perform teaching, while others hold student support and administrative roles.
"It is a fact that there are hundreds and hundreds of staff who work at BU, for example, in student support," he said. "There is no parallel to that at a university in Belgium or France of Germany."
In many other countries, higher education is extraordinarily cheaper than in the U.S., Glenn said. Instead, countries such as Spain and England have much larger classes, and meeting with a professor is rare.
While some students in the U.S. cannot afford higher education, citizens in European countries with socialized education pay higher tax rates to provide education for all.
"Working class families with children who are not going to university are still helping to pay for the university education of the middle-class, so you could argue that that's a different sort of inequity," Glenn said.
Instead, Glenn said he recommends a system that allows students to pay back debt based on how much money they make in their career, such as Australia's educational system.
"It postpones the payments until later in your career, and then it ties the rate of repayment to how much money you're making," Glenn said. "So if you went into a career where you made a lot of money because of your education, you ought to be paying back several times as much as your education costs."