Boston University Student Government slate BetterBU  won the SG elections Monday with votes from about 1,300, or 7 percent, of the undergraduate population, Student Elections Commission officials said.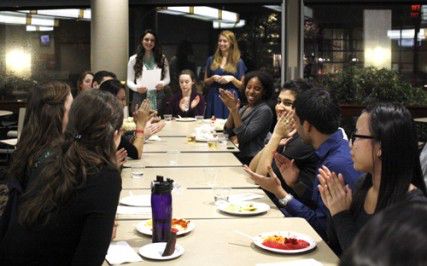 "Given the circumstances, I'm very happy," Rudra, a School of Management junior, said. "I was very concerned we might only get 500 votes, but I'm glad things came out."
The candidates of BetterBU, who ran unopposed, will become SG's executive board for the spring 2013 semester.
Aditya Rudra, SG executive vice president and SG president elect, won the position of president with 1,134 votes. About 215 students voted for write-in candidates.
Lauren LaVelle, an SMG junior, won executive vice president with 1,174 votes, while 164 students voted for write-in candidates. Justin Jones, an SMG junior, won vice president of finance with 1,162 votes, while 159 votes went to write-ins. College of Arts and Sciences freshman Jasmine Miller won vice president of internal affairs with 1,192 votes, while 156 votes went to write-ins.
The fall 2012 race marks the second unopposed SG election. The current SG e-board won an unopposed election in April.
Each candidate in the spring 2012 winning slate, Be Unleashed, won about 1,300 votes, less than 10 percent of the 2011–12 undergraduate population, according to an April 25 Daily Free Press article.
School of Education sophomore and SEC co-chair Tess McNamara said she was happy with the results given the difficult circumstances surrounding the election, particularly the confusion surrounding the election timeline.
"In the end, it went well, and we did a good job overcoming those obstacles as they came," she said. "It definitely has prepared us a lot for the next semester, so next semester, now that we have the election process completely confirmed, it's going to go a lot more smoothly, especially because we'll have a lot more time to plan."
BetterBU will serve a special single term from January to May after SG voted in October to hold a special election. In May of 2013, the election cycle will revert to an academic-year term where e-board members serve from May to May.
BetterBU ran on a platform of halting tuition hikes, establishing a holiday bus system, increasing safety and increasing communication between SG and other organizations on campus.
"We want to put an extra focus on off-campus safety in any way possible, highlight some things that make BU students feel unsafe and see what ways we can address them with alternative strategies," he said.
Rudra said that while he thinks elections should have competition he does not believe the unopposed victory will detract from interactions with the administration at all.
"We're having another election again next semester," he said. "It matters a lot more to me that the election at the end of next semester is contested than this election was contested. Our focus was on making sure we're ready and we campaigned hard, and I don't think we would have gotten the votes we did if we hadn't."
Rudra said the e-board will need to work vigorously from the start of next semester.
"We don't have a whole summer to figure out what's going on, so I had to meet with all the cabinet and say, 'Hey, are you going to continue to serve next semester? Do our goals match up with yours?'" he said.
He said the senators will all remain the same and he hopes the cabinet will remain the same as well.
Rudra said his administration hopes to increase the role and prestige of SG on campus.
"That's going to happen two ways — one, fixing the election system, second, by making a difference on campus," he said. "We need to make things happen so we earn the respect of our peers rather than just demand it."