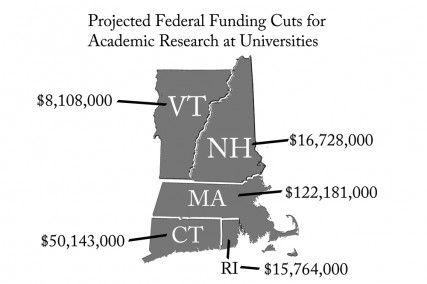 Scheduled cuts to federal research university funding would be damaging to Boston University and might prevent students from job opportunities, students said.
Elizabeth Aurand, a Sargent College of Health and Rehabilitation Sciences sophomore, said cutting research funding would be detrimental to university students in such areas.
"My brother was also a science major.  He was very involved with student-based research, and this is really where ideas for things like new medication, new medical innovations, just new technology in general is coming from," Aurand said.
Research university organizations said sequestration, or the national cut in federal funding to research universities scheduled to take place Jan. 2, 2013, would have a devastating impact on American research, according to a BU press release Monday.
"[Scientific research] pays a substantial return on investment in the form of job creation, workforce development and economic growth," the release stated.
The Association of American Universities, the Association of Public and Land-Grant Universities and The Science Coalition launched a website called Science Works for U.S. to provide data on funding cuts by state and the impact they will likely have.
The cuts will reduce federal funding to academic research and development at certain Massachusetts universities by an estimated $122,181,000, according to the Science Works website.
BU, Brandeis University, Harvard University, the Massachusetts Institute of Technology, Northeastern University, the University of Massachusetts Amherst, UMass Boston and Worcester Polytechnic Institute will lose federal funding with sequestration.
"Federal funding for research represents only 2 percent of the total federal budget, but it pays enormous dividends," said Philip DiStefano, Chancellor of the University of Colorado Boulder, in the release. "The numbers might not look huge, but the potential negative impact of reduced research on the economy would have long-lasting effects."
Aurand said these funding cuts might impact students who are looking to go to medical school and graduate school.
"More and more things like being involved in research is vastly important to your résumé, and it's going to really hurt kids in the future," she said.
Troy Wilson, a College of Engineering junior, said research is fundamental to learning, which is the main reason students come to college.
"As you get more funding for research, you learn more," Wilson said. "That's the point of coming to college."
Wilson said research funding cuts would affect students looking for jobs after graduation.
"Other than internships … doing research is a big thing that companies look for, for experience," he said.
Catherine Cattley, a SAR sophomore, said cutting research funding should not affect students' job search because there is private funding available for research.
"I know that there are federal research grants for underprivileged and disadvantaged kids," she said.
Cattley said the government should spend as little money as possible on funding university research.
"Research is important for schools, but I think that it's not really any of the government's business to be putting their money into that," she said. "I'm totally for privately funded research, hence why I go here and why I'm going to be a researcher."