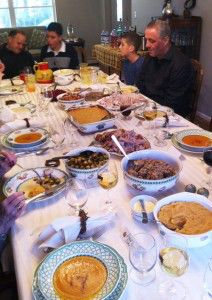 While many Boston University students returned to their homes for the Thanksgiving holiday, a number of international students remained in Boston or explored the U.S. during the break.
Fuxin Zhang, a College of Communication sophomore from Linyi, China, said she does not mind having to leave the city.
"Normally we don't celebrate Thanksgiving in China, so we just go to school during this time," Zhang said. "I love this break. It's so relaxing. I think it's a great time to get away from school."
Zhang said the holiday break allowed her to see more of the U.S.
"I went to New Jersey with Jeff, a friend, and had Thanksgiving dinner with his family," she said. "Before going back home with him, I went to a concert in Atlantic City."
BU had the 13th highest population of international students among U.S. colleges in the 2011–12 academic year, according to a Nov. 12 Institute of International Education press release.
Some student groups on campus held Thanksgiving activities to introduce international students to the traditionally American holiday.
Cru at BU, a Christian group, hosted "A Taste of Thanksgiving," a dinner for international students comprised of traditional Thanksgiving dishes.
Danielle Pelletier, a College of General Studies sophomore and member of Cru, said the dinner was meant to be an introduction to Thanksgiving.
"We just wanted to do something nice for the international students and to show them a little bit about our culture, I guess to welcome them into any kind of community if they wanted to join us," she said.
Shann Chan, an SMG sophomore from Singapore, said she stayed in Massachusetts with other international students for the holiday break.
"As far as international students go, we get to get together with our friends," Chan said. "It was a fun, good bonding experience with everyone."
Chan said while she enjoyed the holiday with her friends, she missed spending time with her family.
"It makes me think of family and how much I want to be with them too," Shann said. "It makes me feel more at home to be with people who are also in the same situation and know that I am not alone."
Many BU dormitories were closed during Thanksgiving break and students were required to leave or stay at the Hotel Commonwealth in Kenmore Square. BU offered rooms at the hotel at a discounted rate of $40 a night, according to the BU Housing website.
Samarth Virk, an SMG sophomore from Gurgaon, India, said he celebrated Thanksgiving for the first time in 2011. He spent Thanksgiving with his extended family in Virginia.
Virk said the holiday places an emphasis on food and time with family.
"From my first experience with Thanksgiving and judging by everyone I have been talking to back at school, everybody was talking about how excited they were about the turkey and just eating and eating," Virk said. "I don't know if we followed any tradition, but my family and I chilled and made turkey together."
Virk said he was excited to spend time with his family, as he does not get to see them often.
"Everyone comes together and all that is very family-oriented," Virk said. "You don't get exposed to your family as much while at school so it's nice to see them."