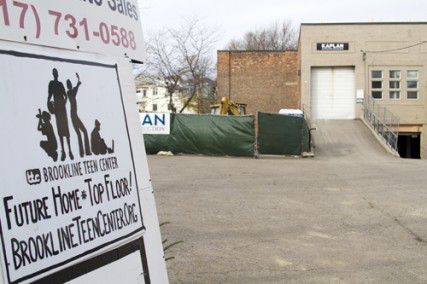 After seven years of development, a teen center under construction in Brookline Village will offer local youth a much-needed space for after-school activities, residents said.
The center plans to provide a safe and friendly facility for teens to engage in recreational activities. Its facilities will include a fitness center, a music and recording studio, a dance room, an academic center, counseling offices and other services, according to the project's website.
The Brookline Teen Center, which faced significant fundraising hurdles, will open before fall 2013, after seven years of planning.
A number of Brookline residents said they are excited for the center's eventual completion.
Diane Piktialis, 67, a consultant living in Brookline and a mother of two teenagers, said she is glad the center will provide a safe haven for young people.
"People in Brookline are very spread out and living near the high school, generally, I see a ton of teenagers just hanging out after school," she said. "It will be very important for parents to know where their kids are after school."
Other residents said the teen center is a logical and thoughtful addition to the town — Brookline lacks a YMCA and a Boys & Girls Club.
Martha Huntley, a project manager for Room for Change LLC, said she is excited by the prospect of having a place for teens to call their home.
"We don't have a YMCA or JCC or Boys & Girls Club," she said. "Their recreation departments are fabulous, but there is a gap for teens."
The lack of a relevant youth-oriented location was a concern for Huntley, she said.
"It provides a space where these kids can call their own," she said.
Huntley said she was thrilled that the center's board of directors focused on making sure they planned the building's facilities with teens in mind. The board enlisted a few teens each summer to help generate designs.
Michael Lindstrom of Studio MLA Architects, the architectural firm working in conjunction with the BTC, said he worked with groups of teen interns. During the summers he introduced them to SketchUp, a 3D modeling program, giving them the tools to plan the building.
However, the limitations of the old building created complications for the new design, Lindstrom said.
"The biggest challenge is renovating but keeping the character of the old building," he said.  "The intern team liked that it was old and rough, and with renovating you radically change quite a bit of it."
Gwen Ossenfort, the BTC's communications director, said the center's development was gradual.
"Fundraising was a challenge for us, as it always has been," she said. "We had about a 6-to-8 month delay, but since we acquired the lease in 2010, the building effort has been a full court press."
All $2.6 million that went into the building's construction came from private funders, and there were no significant hurdles otherwise, Ossenfort said.
Ossenfort also said that working with teen interns was crucial to the building's cause.
"It's teen-focused and teen-driven," she said. "After all, what kind of kid would want to go to a center designed by adults?"
Construction is underway at what is currently a vacant office building at 40 Aspinwall Ave.