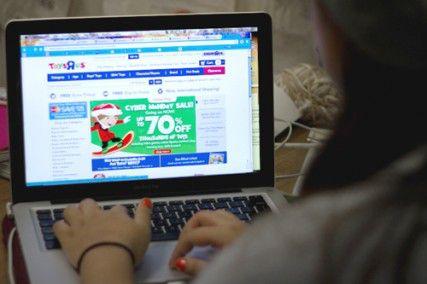 In the wake of national Black Friday sales, a number of Boston University students said while they were not very familiar with Cyber Monday, they took advantage of the discounts offered.
"People didn't know because it's [Cyber Monday is] not as well advertised as Black Friday," said Ashli Molina, a College of Arts and Sciences freshman. "Black Friday is more popular because people like the idea of competing for what they buy."
Some students said they noticed slower BU Internet during the holiday weekend sales.
"I tried to use Oovoo with my family and that doesn't work on BU Wi-Fi, and when I tried to do that, it completely shut down my Internet and shut down my browsers," Tanya Volkert, a CAS freshman said. "Yesterday the Internet was definitely slower than usual."
BU Information Services and Technology said an increase in Internet access the day before and the day of the sales could slow down connection speeds.
"Especially during a holiday shopping season, with Black Friday and Cyber Monday there's an additional, if not extraordinary, load on the Internet," said IT associate vice president Michael Krugman. "Our networks are paths of transport of information and information is increasingly important to people and their personal and professional activities  — weak spots in the Internet surface."
CAS junior Sarah Rockowitz said people learn about Cyber Monday verbally. She said she has looked at sales on Cyber Monday for years, but bought something for the first time this year.
"Cyber Monday is becoming broader and there are more discounts being offered," Rockowitz said. "Even if it's not a big discount almost every [website] had at least free shipping."
Cyber Monday sales increased by almost 27 percent from 2011 to 2012, according to a study conducted by IBM Digital Analytics Benchmark. The total revenue was about $1.5 billion, a 20 percent increase from 2011.
"It's definitely expanding, and it's easier because you don't have to get trampled in a Walmart or wait in line," Rockowitz said. "You can just sit on your computer and do it."
CAS sophomore Windham Veevaert said he received unclear emails about Cyber Monday sales.
"I basically know nothing because I heard that phrase the first time this weekend," Veevaert said. "I just got several emails from different clothing companies about sales on Monday, but that's about it."
College of General Studies sophomore Christina Gagosian said she learned about Cyber Monday the same morning when she asked her roommate.
"There are always commercials for Black Friday and everything so it is really well publicized," Gagosian said. "Because it's online and all the advertising is online, they don't need to put it on television."
Rockowitz said she prefers Cyber Monday to physical shopping on Black Friday.
"It's easier and it takes less of my energy," Rockowitz said. "It's easier to go to bed and wake up in the morning and buy it on the computer."
Molina said she enjoys how much easier it is to shop online instead of warding off crowds on Black Friday.
"It's better to sit back in your pajamas and just shop from home," Molina said. "I didn't go to Black Friday because I didn't enjoy fighting people over clothes and materialistic things."
Margaret Waterman contributed to the reporting of this article.