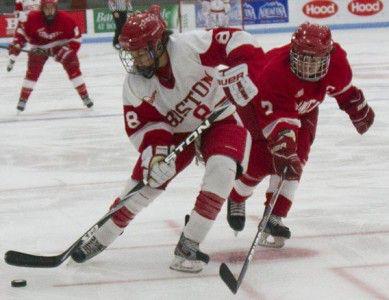 In an exhibition game against the Russian National Team, the No. 5/7 Boston University women's hockey team came away with a 6–1 victory Monday night at Walter Brown Arena.
Team Russia fired first, with forward Iya Gavrilova scoring on an assist from forward Ekaterina Pashkevich 6:50 into the first period to give Russia a 1–0 lead.
BU (9–3–1, 4–2–1 Hockey East) answered three minutes later with a goal from sophomore forward Kayla Tutino. Senior forward Isabel Menard was at the blue line and passed it to junior defenseman Shannon Doyle, who was standing in front of the net. Doyle then passed the puck across the net to Tutino, who sent it past Team Russia goalie Anna Vinogradova to even the score at one goal apiece.
Less than two minutes later, BU took the lead as senior defenseman Kathryn Miller passed the puck to junior defenseman Kaleigh Fratkin, who took a slap shot that got by Vinogradova.
With 13:32 into the first period, freshman forward Rebecca Russo fed the puck to freshman forward Jordan Juron, who was standing at the side of the net. Juron shot the puck, and it ricocheted off the post and into the net for BU's third goal of the period.
BU went into the locker room for the first intermission with a 3–1 edge in goals and a 12–7 edge in shots on goal.
At the 13:24 mark of the second period, with BU shorthanded, junior forward Marie-Philip Poulin skated up the right side and attempted to score, but backup goalie Anna Prugova made an easy save. Prugova lost sight of the puck shortly thereafter, and senior forward Jenelle Kohanchuk put it into the open net to give BU a 4–1 lead.
BU extended its lead to five goals 4:41 into the third period. Senior defenseman Kathryn Miller took a slap shot from the point that deflected off a body in front of the net, beat Prugova's blocker side and went in off the crossbar.
Russo scored the last goal of the game on a pass from Juron at the 16:14 mark of the final period. The final score was 6–1 in favor of the Terriers.
Juron, who had only scored two points on one goal and one assist in regular season play, attributed her strong performance to her line mates.
"Rebecca [Russo] and I work well together," Juron said. "On that first goal she was just battling and pushing it forward and she was like, 'Jordan, the puck's at your feet, the puck's at your feet,' and I just shot it into the net."
BU coach Brian Durocher said he was impressed with his team's performance on offense, particularly his younger players.
"Jordan getting one, Rebecca getting one … Just taking advantage of opportunity and ice time," Durocher said. "They are a young line who's got to gain confidence, and maybe a game like tonight will give them a little bit more of that confidence."
Senior goaltender Alissa Fromkin turned in a stellar performance for BU, conceding only one goal the entire game and recording 15 saves.
Durocher credited his team's improved defense with preventing Team Russia from gaining any momentum.
"[We] spent some time in their end, spent some time breaking up some neutral zone rushes when they did get in our zone," Durocher said.
"We were in position enough times to either block shots or take away time and space, so they didn't get as good looks as [our opponents] sometimes get," he added.
Durocher said that the exhibition game was beneficial for the upcoming weekend series against Providence College.
"It's a combination of having some days off to recharge the battery, a practice game, I think that's the more important thing," Durocher said. "I don't think the game in any one way necessarily prepared us as much as the fact that we were able to shake the cobwebs off.
"To come back and have a real game instead of four or five practices gives us a chance to look at some things or maybe make a couple of final decisions on people."