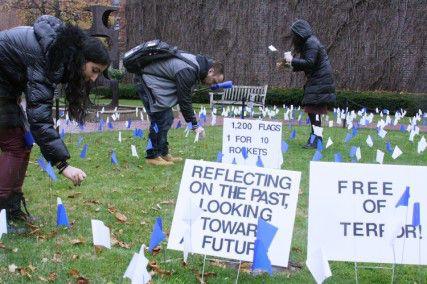 The ceasefire reached Wednesday between Hamas and Israel might act as a temporary solution to violence, but does not address underlying issues in the Israeli-Palestinian conflict, Boston University professors said.
"The exchange of fire that happened over these recent weeks is only a small superficial manifestation of a much deeper problem," said Stephen Kinzer, an international relations professor.
Kinzer said the deeper problem stems from the isolation of the Gaza Strip.
"Nobody can go in, nobody can go out [of Gaza]," he said. "There are no exports, there are no imports, so there's essentially no economy. They're essentially living in a large open prison."
Until the problem with Gaza is addressed, similar episodes will occur, and will likely escalate, he said.
Kinzer said while Hamas's reluctance to negotiate lessens the likelihood of long-term peace, its participation in the settlement is essential, as Hamas represents a large number of people.
Kinzer also said he supports the two-state solution but its success is unlikely.
"It [the two-state solution] was thought to be the logical, peaceful end to this process," Kinzer said. "I still think it should be, but the prospects for it don't seem very strong at this moment."
Betty Anderson, a history professor and member of the BU Institute for the Study of Muslim Societies and Civilizations, said the ceasefire is not a lasting solution.
"It [the ceasefire] is just one in a long series of these," Anderson said. "They stop a particular flare-up that has broken out, but they're not meant to solve any larger systemic problems."
Anderson said while there is no reason to believe the ceasefire will immediately fail, the lack of ongoing negotiations between Israelis and Palestinians poses a threat to peace.
Leora Kaufman, BU Students for Israel president and a College of Communication sophomore, said the ceasefire might temporarily end fighting, but lasting peace requires negotiation with a Palestinian group other than Hamas.
"We don't know what the future holds, but we can only hope that it will bring a temporary peace," she said. "True peace will only come when we're not negotiating with a terrorist organization, but with a true governing body in the Gaza Strip."
Kimberly Zar, a College of Arts and Sciences freshman, said she organized about 15 BU students to place 1,200 flags outside the The Florence and Chafetz Hillel House Tuesday to represent the 12,000 rockets Hamas fired at Israel during the recent conflict.
KateLynn Plotnick, Hillel's program associate for Taglit-Birthright Israel, purchased the flags and helped organize the event.
Kareem Chehayeb, a member of Students for Justice in Palestine and a College of Arts and Sciences senior, said the fighting in Gaza is unbalanced.
"It's not the conflict of two established militaries fighting over a separate aspiration," Chehayeb said. "No, this is an issue between a country with a developed military and powerful influence around the world against a people with a minuscule military group."
School of Hospitality Administration junior Talya Stern, who lived in Israel before coming to BU, said both parties have committed wrongs and must communicate to reach a solution.
"We [Israel] have killed way more of them [Palestinians] than they have of us," Stern said. "The only solution is to talk … That's the only solution for this to stop."
CAS senior Jorge Nassau said the ceasefire is a positive development, but not a lasting resolution.
"The Palestinian right for state is being undermined by Hamas's extreme postures and constant attacks to Israel," he said. "That's the basic problem that needs to be addressed," he said.
Israel and Palestine must recognize one another as states, Nassau said.
"That's not going to happen until Hamas decides to drop violence and sit at the negotiating table," he said.
Graduate School of Arts and Sciences first-year student Lu He also said the ceasefire is not an adequate solution to the conflict.
"Until the day Palestinians can found their own country, the conflict between Israel and the Palestinians will never stop," she said. "I think there is much more conflict coming."
CORRECTION: In the original photo caption it said one flag was placed for every 10 rockets fired at Gaza, instead they were placed for every 10 rockets fired at Israel.