Use of cellphones for purposes of text messaging, photography and Internet-surfing has increased among adults since 2010, according to a recent survey by the Pew Research Center.
The survey found 80 percent of adults use cellphones to send text messages.
The increase is indicative of social changes and a desire to have more control over conversation, Boston University officials said.
"A telephone call is an adventure," said John Carroll, a mass communication professor. "It is something that develops unexpectedly many times and goes into unanticipated areas many times. If you want to have the maximum amount of control, you tend to either text or email."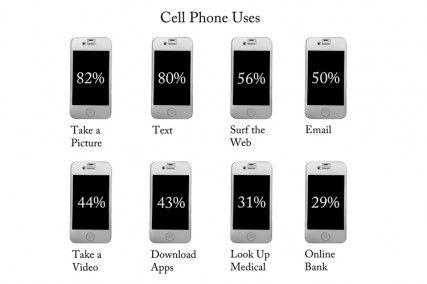 The report, released Sunday, contained data from a survey of more than 2,000 cellphone owners and found 82 percent used cellphones to take pictures, 56 percent use phones to access the Internet and 50 percent sent or received emails on their phones.
"In an era where smart phones are being indoctrinated by more and more people, phones have become instruments for lots of activities and not just phone calls," said Lee Rainie, director of the Pew Internet and American Life Project. "They're the Swiss Army Knives of digital communication and information dissemination."
Since 2007, the percentage of adults that email from their cellphones has more than doubled. Twenty-two percent more adults use phones to send text messages than in 2007.
"The lives of those with cell phones are experiencing an enormous technological change, and more importantly, social change," Rainie said. "They're a way [for people] to socially mediate like they never used to because they have a phone."
Rainie said the functionality of cellphones — smart phones included — is especially attractive to young adults and has become a defining element of their lifestyles.
Jeanette Kusi, a College of Arts and Sciences sophomore, said she answers her parents' text messages more readily than their phone calls.
"They're getting better at it because they've adapted to this social change more," Kusi said. "They grew up without cellphones so they're just trying to adapt to today's social ways because if you don't text me, I'm not going to pick up the phone when you call."
Michael Mucci, a CAS senior, said parents are buying cellphones primarily to keep in contact with their children and not for Internet browsing.
"[My parents are] old fashioned so they only have them [cellphones] for emergencies and to call me, my brother and my sister," Mucci said. "They don't see any reason for a phone to have Internet or even text. They just like phones for calling and nothing else."
College of General Studies freshman Liam Santamaria said his parents have embraced their new iPhones and use them constantly.
"When they first got [cellphones] they only ever used them for calling because it was cheaper for everyone not to get a smart phone," he said. "Now they are constantly on the Internet, constantly doing work, listening to music and that kind of stuff."
CAS freshman Antonette Hayakawa said her parents have kept up with cellphone advances for work purposes.
"My dad has owned every iPhone since they came out and he has owned a smart phone even before the iPhone came out," she said. "My dad is very technological-based because of his job."
Rainie said evidence shows cellphones are becoming a more important element in the day-to-day lives of older adults.
"It's a classic technology adoption story where the young are leading the way," Rainie said. "It's interesting that, over time, more older users have come aboard where over half the population has the same technology, and it's not only young people."