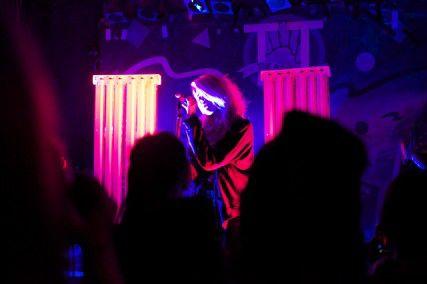 She's Blondie for the Facebook age, Courtney Love minus the sloppiness with a dash of electropop and neo-grunge cool ­­— musician and occasional model Sky Ferreira brought her fledgling act to TT the Bear's Tuesday night in Cambridge in support of her critically acclaimed new EP, Ghost.
Just as you would expect from someone whose lead single is entitled "Everything Is Embarrassing," Ferreira radiated this ineffable quality that fell somewhere between forlornness and apathy, an effortless cool that most hipsters can only dream of. This effortless cool has not gone unnoticed by brands such as Calvin Klein and Adidas, which featured her in ad campaigns in recent years.
She has also been photographed by big names such as Terry Richardson and Ellen von Unwerth. After several false starts, she is making her way fully into the world of music with her new EP as well as with a full-length album scheduled for release in January.
For the first half of her short 45-minute set, Ferreira seemed slightly uncomfortable (insert bad joke about embarrassment here), seemingly unsure of how to move to her more electronic songs like "Lost In My Bedroom" and "Red Lips." Unsurprisingly I suppose, she resorted to switching between what looked like several different modeling poses, while staring sullenly into the crowd. This aesthetic seemed to jive with the two sets of flickering fluorescent lights that resembled camera flashes behind her as she wound her way through tracks from her EP, as well as new tunes from her forthcoming album.
Despite Ferreira's clear potential as a musician and performer, the first half of the show was plagued by feedback from the sub-par sound system of TT the Bear's, something of an inevitability when electronic-leaning acts are booked at smaller venues.
However, Ferreira's talent truly shone through when she slowed down to perform more acoustic numbers such as "Sad Dream" or the old SoundCloud demo "Werewolf." Her voice toes the line between smoky and piercing, an odd quality that seems almost conversational in its familiarity.
So many models/actors/pretty people think they can just waltz over from the world of looks to the world of music without a hitch. Most end up doing so with disastrous results (Drew Barrymore's single? Anyone remember? Nope? Me neither).
However, if there is one thing I learned Tuesday night, Sky Ferreira is a notable exception to the rule. Her authenticity shines through in her lyrics, and while her live show still needs to work out a few kinks, she has all the raw material on hand to rise to stardom.