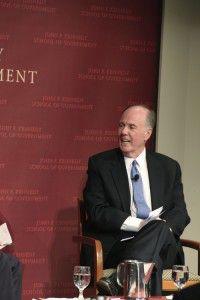 In a forum at the Kennedy School of Government at Harvard University on Thursday, Thomas E. Donilon, national security advisor to U.S. President Barack Obama, focused on the importance of restoring U.S. relations with allies and emerging world powers.
"Alliances are a unique American asset," he said. "If you look at the competitive nations around the world and the United States, no other nation in the world has a system of global alliances that the United States does.
Donilon said alliances in Europe and Asia are still in "very good shape." Graham Allison, the director of the Belfer Center for Science and International Affairs, and Douglas Dillon, professor of government at Harvard, asked Donilon questions regarding foreign policy and then allowed Harvard students to participate in the discussion.
In the dialogue, Donilon said he wants to strengthen U.S. relations with increasingly powerful countries such as Brazil, Africa, Turkey and India.
"We tried to step back and ask ourselves the following question, 'What are the alliances, what are the groupings that we would need to solve problems 10 and 20 years from now?'" Donilon said. "We went about
consciously working on those relationships."
Donilon said because of Turkey's emerging power in the Middle East, the U.S has made an aggressive effort to establish a productive relationship with the Turks.
"Turks have requested [North Atlantic Treaty Organization] to provide them with missile trans capabilities with respect to potential threat in Syria," he said. "As a NATO ally, that is something we would be very much in favor of, in terms of protecting the safety and security of our allies."
Donilon spoke of U.S. efforts to bring democracy to Burma by loosening sanctions and sending a U.S. ambassador to Burma.
"Our engagement has been productive at this point, that Burma is on the path toward a better place, that if they continue to move forward, we will continue to aid them," he said. North Korea should look to Burma as an example of the successful actions needed for democracy, Donilon said.
"They have a new leader, who has at least claimed publically that their priority is the economic well-being of his people," he said.
"They are terribly isolated, and it would be an important example for North Koreans to look at as the potential path that they might travel down."
Margarita Kostova, a freshman in the Kennedy School, said she was impressed by Donilon's suggestion that North Korea follow Burma's lead.
"It was interesting when he connected Burma to North Korea," she said. "I wouldn't have thought of that."
Toward the end of the discussion, Donilon said he appreciated China's support of the economic sanctions in Iran.
"We have a joint concern about the price of oil, and again, if you look forward … they are going to be very much concerned about the future stability of the Middle East as a source of stability," Donilon said.
Jessie Wyatt, a freshman in the Kennedy School, said Donilon's mention of China gave her a sense of his global perspective.
"What he said about relations with China was very impressive," she said. "He addressed that there have been problems in the past, but that there is a future of cooperation. It was encouraging because it's important to the economic and global world."
Brian Chiglinsky, a first-year student in Harvard's Master in Public Administration in International Development Program, said he prefers discussing domestic policy, but could not miss Donilon's talk.
"The opportunity to see the national security advisor currently in office, and to see what issues he decided to touch upon, is something you can't pass up," he said.