For a number of Boston University student groups, World AIDs Day was an occasion to spread awareness about the remaining dangers of the virus, despite living in an area with a low rate of infection.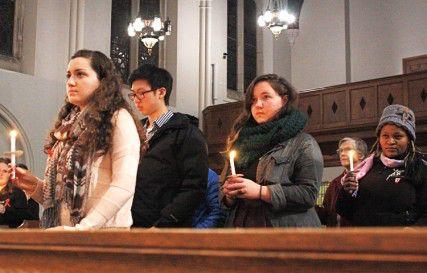 BU's World AIDS Week ran from Wednesday through Saturday, during which student groups held vigils, poetry readings, testing opportunities and other activities.
Sara Shilling, program manager of Project Hope, the BU Community Service Center's chapter of FACE AIDS, said she organized AIDS week to reach out to the community.
"That's really what World AIDS Day is about, just being aware," Shilling, a Sargent College of Health and Rehabilitation Sciences senior, said. "It's a day to remember and just be aware of what happened and what's still going on."
Throughout the week, Project Hope, the Center for Gender, Sexuality and Activism and the free hugs group I Embrace You organized a series of activities to raise AIDS awareness.
On Thursday, the CSC and Project Hope showed a screening of MTV's "Shuga," a television drama from Kenya focusing on HIV, relationships and sex.
Organizers held a vigil at Marsh Chapel Saturday for AIDS victims and Speak for Yourself hosted a poetry reading Saturday night.
Burns said the AIDS Week table at the GSU Link was successful. Volunteers handed out commemorative red ribbons, informational pamphlets and free condoms from Wednesday to Friday.
Free HIV/AIDS rapid testing was offered, including pre- and post-test counseling.
"All the slots were filled for testing at the GSU Link," Shilling said. "The first day we tested 17 people. We actually had to make extra slots because there weren't enough and the tester wanted to fit everyone in. Typically they test 40 to 50 people every World AIDS Week."
Despite high traffic at the AIDS table, Shilling said getting students to attend other activities was a challenge.
"Attendance is always difficult at the AIDS Week events," she said. "There are a lot of different of reasons, but some people would rather do something else. It's not like it's happy."
Emma Burns, treasurer of BU's FACE AIDS chapter, said she wants BU students to be well educated on AIDS, despite not living in an area with a high rate of infection.
"For the most part, people feel that they're very removed from AIDS and HIV, especially because so much of it is focused on Africa," Burns, a College of Arts and Sciences senior, said. "But there are a lot of people living with AIDS in the U.S., and because of that there still is always a risk factor for you."
More than 25 million people died from the virus between 1981 and 2007, with an estimated 34 million people currently suffering from it globally, according to the World AIDS Day website.
The Centers for Disease Control and Prevention estimates 1.7 million people are living with HIV in the U.S. today, with one in five unaware of their infection, according to the U.S. Department of Health and Human Services website.
Students who attended the AIDS week film screenings and poetry readings said while the turnout was lower than hoped, they were pleased with the educational resources.
"I wish the turnout tonight was a little bit better, but I feel like for me it was eye-opening," said CAS sophomore Laura Kakalecz after Saturday's poetry reading. "Just because it's not an issue they [BU students] would normally think about doesn't mean it's not important."
Melanie Kirsh, a CAS freshman, said she was impressed with Saturday's poetry reading, which was followed by songs, stories and photographs from a group of AIDS activists from South Africa.
"I loved the poetry, Speak for Yourself is awesome," she said. "It's just incredible. I was about to cry at one point when one young woman [activist from South Africa] shared the story of her brother's suffering."
Darwin Janes, a sophomore in CAS, said attending AIDS week activities made him think of the virus in a way he never had.
"It's interesting that the rate of those who have AIDS is a lot higher than recorded because a lot of people don't tell people, or they don't even know," he said.
Burns said while the stigma of AIDS in society sometimes prevents those infected from confronting it, communication is the key to prevention.
"It's important to have open dialogues about it, it's the first step to making people more comfortable in dealing with it," she said. "If you're more comfortable in dealing with it, you're more comfortable to try and prevent it."