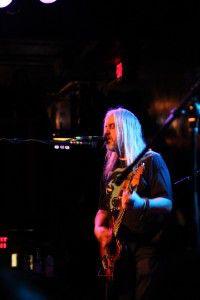 As I walked out of the Paradise Friday night after watching Dinosaur Jr. shred for a good two hours, I felt as though I had hurtled through time, encountered a brief pocket of space where alt punk still existed and people were still loud about it, and then spat out once again into the streets of Allston where biddies trudged through the streets, with only stilettos and Ke$ha lyrics to spur them on.
Okay, I might be being a bit dramatic here, but you get the idea. Dinosaur Jr. is a band that has been around and going strong since the late 1980s when Sonic Youth invited them on tour, leading to the release of their second album, 1987's You're Living All Over Me. With a band that has this much clock time and 10 studio albums to prove it, one can expect a solid show, and on that note, Dinosaur Jr. delivered. More than that, however, they managed to elicit that feeling so often lost in shows today— an ineffable kind of ferocity and joyful abandon that has nearly gone extinct in the age of Bon Iver and Auto-Tune. For perhaps the third time ever, I left the Paradise with my ears muffled and ringing into the next day, satisfied after seeing a band that was unafraid to get loud and, excuse the trope, rock out.
The audience, largely made up of anachronistic silver-haired hipsters, seemed to pick up on this tenacity, thrashing about and starting a quasi-mosh pit as guitarist J Mascis led them through the band's discography, drawing from several different albums and covering crowd favorites like "Tarpit," "Start Choppin'" and "Watch the Corners." The frenzy came to a head during the encore, a frantic sounding cover of The Cure's "Just Like Heaven" that morphed into the band's classic hit "Sludgefeast" halfway through.
The guitar was crisp and ferocious, the energy high and the crowd less coolly comatose than a typical hipster show at the Paradise. Dinosaur Jr. managed to awaken the sleeping angst-y punk in all of us, and for that feat it was worth going a little deaf for a few hours.