The No. 7 Boston University women's hockey team met Providence College on the ice twice over the weekend. Having beat Providence 7–1 earlier in the season, BU continued its success, winning 4–3 Friday at Schneider Arena and 6–4 Saturday at Walter Brown Arena.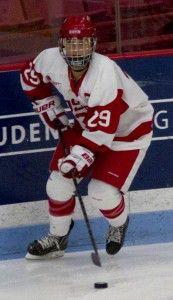 "[Providence] had gotten a little frustrated to have had a game sneak away from them [Friday] after having the lead three times," said BU coach Brian Durocher. "And then have to come on the road, it showed a lot of character and a lot of perseverance from them. They're a team to be reckoned with now and in the future."
Providence (8–7–4, 5–4–2 Hockey East) went into the third period with a 2–1 lead on Friday, but senior forward Jenelle Kohanchuk scored on a power play to tie the game at two goals apiece.
After the Friars regained a 3–2 lead, junior defenseman Shannon Doyle and senior forward Isabel Menard answered with goals only 40 seconds apart to bring BU (11–3–1, 6–2–1 Hockey East) up 4–3.
Durocher said Friday's game was more challenging on the defensive end, as Providence had more power-play opportunities.
"This weekend we had a good run," Durocher said. "We made a couple of personnel changes, and one of the power plays is a completely different power play, and for one weekend anyway, it worked."
Four minutes into the start of Saturday's game, junior co-captain Marie-Philip Poulin scored a power-play goal to get BU on the board first, which began a trend of the teams trading goals.  It was her seventh goal of the season and the first of her four-point effort for the evening.
Senior Nicole Anderson scored later in the first period to put Providence on the board and even the score at 1–1.
Six minutes later, with just more than a minute remaining in the first period, Poulin scored her second goal of the evening. Freshman forward Sarah Lefort and Kohanchuk got assists on the play.
Responding to Poulin, a minute and a half into the second period, Anderson scored her second goal of the night, tying the game at two goals apiece.
Kohanchuk answered again, scoring a shorthanded goal 13 seconds into a penalty kill to give BU a 3–2 lead.
However, five minutes later Anderson scored her third goal of the game, recording her third career hat trick and tying the game at 3–3 with a power-play goal.
Durocher said BU could have put itself in the position to have a comfortable lead by the second period, but the defense was too soft.
"It was not really a coach's type of game," Durocher said. "Their second goal, when they made a beautiful shot, we didn't seem to have anybody in the same area code, and that's making it too easy for the other team."
In the third period, a shot deflected off of Menard's ankle, and she fell to the ice. Appearing as if she could barely stand up, she left the ice with the trainer.
A few minutes later, junior Rebecca Morse was ejected from the game after getting a penalty for hitting from behind. Using the power play to her advantage, Poulin picked up a rebound and completed her hat trick, putting BU in the lead, 4–3.
After Poulin's goal, Menard returned to the ice.
A few minutes after forward Molly Illikainen scored to tie the game at four goals apiece with 3:30 left in regulation, Menard put the Terriers back in the lead with a slap shot during a power play.
Durocher said he commended Menard for returning with such strength.
"Isabel's a kid who last year was the second leading scorer on our team. This year, she's in the same neighborhood right now," Durocher said. "It doesn't matter who she's playing with on the line, she's always making things go."
Scoring three power-play goals, the Terriers achieved their highest output of the season.
"We know that Providence has a great team, and they showed it," Poulin said. "They came back every time."
With less than a minute left in the third, Tutino scored the last goal of the night, giving BU a 6–4 win.
Five Terriers had at least two points in the game, including Kohanchuk, who got her 50th career assist and a goal to go along with it.
Durocher said he tipped his cap to Providence, who remained perseverant throughout the game.
"It's a sign of a competitive and well-coached team," Durocher said. "They never let up, and they made life miserable for us … but we found a way and got it done in the end."
The Terriers will travel to Minnesota for a weekend series with Minnesota-Duluth on Dec. 8 and Dec. 9.