Although Hubway bike stations closed for the winter on Thursday, a year-round bike share system could have Boston bikers riding through the winter.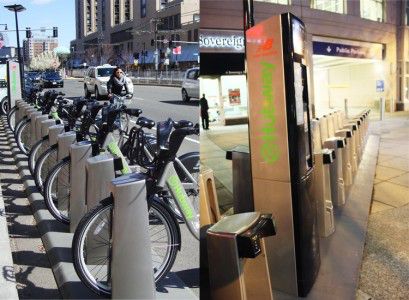 But the possible initiative would need to work around the city's winter plowing and road maintenance operations, officials said.
"Part of making it [Hubway] a year-round system next year, or whenever we would be able to do it, is looking at which stations would have to come up and [seeing if we] can … find alternative locations for some of those stations so we aren't gutting the heart of the system," said Jessica Robertson, transportation coordinator for the Metropolitan Area Planning Council.
Robertson said about one third of all Hubway stations in Boston lie on the street and must be taken up in the winter to accommodate road maintenance.
Toronto, which operates a bike-sharing system throughout the winter, will act as a model if a winterized Hubway system is announced, Robertson said.
The four municipalities that run Hubway have already signed contracts with Alta Bicycle Share and could run into trouble if a winterized Hubway cost much more money, Robertson said.
"Because they have an existing contract, it would be hard for them to allocate additional money," she said. "However, Toronto has said it actually costs them less money to operate year-round because its expensive to uninstall and reinstall all the stations, and also because if the system is closed you are forgoing a lot of revenue."
Kristopher Carter, interim director of Boston Bikes, said the Hubway stations closed in 2011 on Dec. 1 and reopened in March.
"The way that our contract works, they are closed during the winter to work on the infrastructure of the streets," he said. "We have to make sure the streets remain clear during winter and we don't want our stations to interrupt the business of the street cleaners."
Carter said the department understands that people bike in the winter.
"It's not ignorance, we know people want to ride bikes," he said. "We want to make sure the streets are cleared and are safe for people."
Both Boston bikers and shop workers said they understood why Hubway shuts down in the winter.
"Most of the people who use Hubway bikes aren't experienced cyclists," said Natalie Tukan, a Boston University junior in Sargent College of Health and Rehabilitation Sciences. "Thus, they might not be cognizant of the proper precautions to take for winter biking and put themselves and others at risk for injury."
Tukan, a year-round biker, said biking outside during the winter is harder.
"Both due to snow, slush and the cold, it is definitely harder to bike during the winter," she said. "If you do ride your bike in the winter, you need to be very cautious."
The Hubway system was launched in July of 2011 after efforts from Boston Mayor Thomas Menino to bring a bike-sharing program to the Boston area, according to the Hubway website. The system started with 600 bicycles and 60 stations throughout Boston.
Robertson said more than 600,000 rides have been calculated since the launch.
A number of bike-rental shops in Boston are open year-round and said they see an increase in bike rentals during the winter months due to the Hubway stations closing.
"We absolutely see more people renting bikes from us, but it [Hubway stations closing] hasn't had that big of an impact on us," said Liam Howard, a retail mechanic at Back Bay Bicycles.
Andrew Prescott, owner of Urban AdvenTours, said his company also sees the number of bike rentals increase.
Despite seeing an increase in business, Prescott said he understands why Hubway would close its stations.
"It is wise to close in the wintertime for them because of the upkeep of their bikes and the financial burden they would have," Prescott said.
Howard said there are many reasons why Hubway should close its stations.
"Having bikes sit in storage kills its integrity," he said. "Also, the roads here are salted, which causes the degradation of bikes."
Breno Melo, a graduate student in BU's Metropolitan College, said he has used the Hubway bikes for commuting purposes and for fun, but in the winter, the weather could be dangerous for the average biker.
"Probably less people consider biking in the winter," he said. "The snow, salt and bad weather is more dangerous for the average rider and it damages the bikes."
Robertson said the Hubway system shuts down in the case of severe weather emergencies, such as Hurricane Sandy, and would do so in the winter after major storms for safety reasons.
Still, Melo, a member of the BU Triathlon Team and avid biker, said riding a bike during the winter is a challenge.
"It's not harder, just more challenging," he said, "and if a challenge was bad than I wouldn't be biking in the winter or a member of the team."