When writer Anne Gray Fischer was in graduate school with a 9 a.m. to 5 p.m. job, she applied for a fellowship to the Writers' Room — a cornerstone of Boston's writing community that allows aspiring writers a space to work.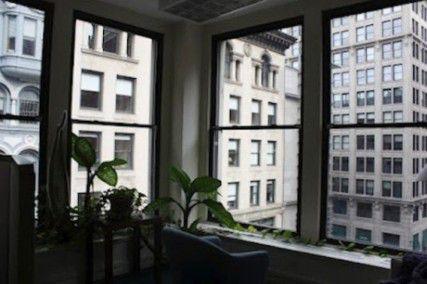 "Even though I had a job, I was barely making ends meet and having the space so close by was a place for me to work on my thesis," she said.
Each year, the room sponsors four writers from different genres, including poetry, fiction and non-fiction, and gives them free membership to the Writers' Room to develop their writing projects, Fischer, now an administrator of the Writers' Room, said.
"We're always looking for the most deserving writer [for our fellowships]," she said. "We want the writer who's most in need, but also most serious about their work."
The Writers' Room of Boston celebrates 20 years in 2012 as a breeding ground for the written word, and is accepting applications from emerging writers that want a small writing community on the fifth floor of 111 State St. in Boston.
Since forming in 1993, the Writers' Room has provided a workspace, and more importantly a greater sense of community, for hundreds of Boston-based writers, Fischer said.
"Now more than ever, Boston is home to one of the largest writer's populations," Fischer said. "And yet more and more freelance writers and adjunct professors who are working as writing or composition teachers are losing office space."
Ben Winters, a novelist and former member of the Writers' Room, said the environment there is perfect for composition.
"The benefits are multiple — the main thing is that a lot of people who are full-time writers find it difficult to write at home," Winters said. "There's also just the sort of general advantages of having sort of a sense of community in the sense that you go into the break room and there's a cup of coffee and another writer in there to share your ideas with."
The Writers' Room sponsors readings, writing workshops and salons, as well as a myriad of other activities designed to help writers share their ideas and get much needed feedback, according to the Writers' Room website.
The Writers' Room is open 24 hours a day, seven days a week and provides a quiet space for writers who otherwise would not be able to afford an office space, Fischer said.
The space has two lounge areas, writing spaces, an outfitted kitchen and a bathroom, according to their website. Membership fees for one quarter cost from $300 to $350 — about $3 a day.
The Writers' Room has become part of what many writers, such as Shuchi Saraswat, call a vibrant writing culture in Boston.
"In Boston there are just so many people who are interested in reading and writing," Saraswat said.
A few of the independent bookstores in Boston, such as the Brookline Booksmith and the Brattle Book Shop, hold special author readings on a regular basis that Saraswat said was an indicator of a writer-friendly city.
"Through independent bookstore culture alone there are four or five amazing bookstores that people actually go to which have these great author readings that people attend," she said.
Other writers said Boston boasted a population of readers and see the Writers' Room as a place where students, professors and professional writers come together as an integral part of that culture.
"I think that being in Boston, there's always some sort of interesting conversation going on around you, and the Writer's Room is kind of like a microcosm of that," Winters said.
This year's fellows included Saraswat, a fiction writer who said she has been working in Boston since her graduate studies at Emerson College ended in 2009. Saraswat said the experience has helped her make significant progress on her novel, citing the room's serious and academic atmosphere as extremely important to her work.
"With something like a novel, its so grueling, there's often little reward and you're kind of in it on your own," Saraswat said, "and having someone provide you with a space to do that is just kind of incredible."