A number of Boston University students are proposing a new campaign to serve less meat on Mondays in the spring 2013 semester to cultivate food options and environmental friendliness, students said.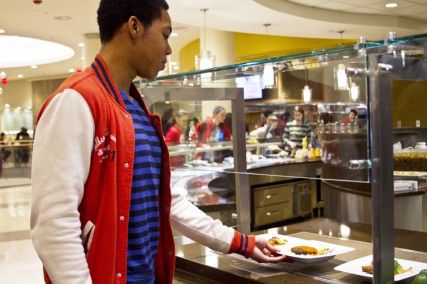 Meat-Reduction Mondays are being proposed as part of a sustainability campaign to increase the number of vegetarian options by 75 percent on Mondays in the dining halls and reduce, but do not eliminate, the meat options, said Gunita Singh, organizer of the campaign.
"A school like BU has an undeniable obligation to reduce its carbon footprint as much as possible," Singh, a College of Arts and Sciences junior, said.
The main focus of the initiative is reducing the carbon footprint of BU Dining Services. Singh said he hopes the initiative will address BU's role in contributing to greenhouse emissions.
"If BU purchases less meat products one day of the week, the demand for meat goes down," she said. "It all makes a difference in bringing down the supply of an industry which pollutes indiscriminately."
BU Dining Services has a program called "Make A Difference Monday" to offer more vegetarian and locally grown food options, said Sabrina Pashtan, the sustainability coordinator for BU Dining Services.
"One Monday per month, we have Make A Difference Monday in our dining rooms," Pashtan said. "It showcases foods with a lower carbon footprint and also locally grown food."
Make A Difference Monday does not make as much of a difference as it could, Singh said. Since it only takes place once a month and there are often university holidays on Mondays, the initiative is not often implemented.
"That is not as substantial an impact as this Meat-Reduction Monday initiative would be," Rachel Atcheson, CAS junior, said. "We're talking about 15 Mondays a semester versus three Mondays a semester. That's five times more impactful."
While some students said they support the efforts to decrease BU's greenhouse gases, they are not convinced the implementation of the initiative would be accepted.
"I support it, I just feel like it could bring a lot of problems," said College of Communication junior Melanie Rieders. "I think people may get offended."
Rieders said although it is an interesting idea, having the initiative once a week might be too often.
"We already have something like that once a month," she said. "Make A Difference Monday still serves meat but in a healthy way, which is good."
COM sophomore Erica Shulman said she understands why people would be opposed, but believes the additions for vegetarians would leave more choices for everyone.
"It would be healthier," Shulman said. "There are only a few vegetarian and vegan options in each dining hall, so to know there's a place everyone can go, even just once a week, to get a good meatless meal is great."
While the food served under the initiative would include less meat options, Singh said the point is not to entirely eliminate meat. The group leading the action would be able to design the meals to be flexible, without alienating students who do eat meat.
"I understand completely that some people might feel as though, since they are adults, the school has no right to impose a day without meat on them," Singh said. "We simply want to provide them foods that have not been manufactured with violence and cruelty, and have less, if any, of a carbon footprint."
Katie O'Neill, a CAS junior, said despite initial reservations students might have, they should look harder at what can be achieved by implementing the initiative.
"Students should keep in mind the impact that their food decisions have on global sustainability, O'Neill said, "and that together we really can work to reduce our carbon footprint as a university."