Standing in line to see Santa Claus with her 11-month-old daughter Maggie, Lincoln resident Jennifer Butler is one of many shoppers who are not deterred in their holiday shopping by impending talk of the "fiscal cliff."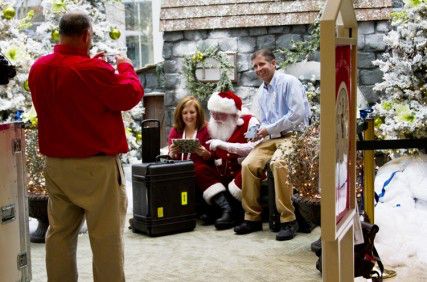 "The economy is not really affecting our Christmas shopping or our Santa photo-taking this year," Butler said. "Since it's her [Maggie's] first Christmas we're just going all out."
Butler said she wants to make the "Santa in the City" activity a tradition for Maggie.
Although Santa Claus appeared at the Shops at the Prudential Center amid negative talk of the impending "fiscal cliff," the state of the economy does not bother holiday shoppers, Saint Nicholas said.
"The economy doesn't seem to be bothering them [shoppers]," said the Prudential Center Santa Claus.  "I don't think that's much on anybody's mind."
The Shops at Prudential Center are sponsoring the "Santa in the City" occasion through Dec. 24, where families can come and take photos with Santa Claus.
This holiday season Santa's photographer, Mark Ufland, owner of Memories In An Instant, said he has witnessed an increase in shoppers and customers.
"We've had a ton of repeat customers from last year," Ufland said.
"I think that the number of shoppers doesn't seem to be down, but I think maybe the number of bags that shoppers are carrying possibly is."
Mathematics teacher Jeff McCalla said he is able to meet his personal objectives because he is on a budget, but the government is not.
"We kind of got ourselves into this and we need to start being more responsible as a nation, and it starts with our leaders spending less," McCalla said.
"I live on a personal budget, and why can't the government too?"
Ufland photographed McCalla and his co-worker teaching Santa Claus how to use a calculator in hopes of encouraging others to be fiscally responsible.
"We need to do something different," said McCalla, a Memphis instructor. "I am a math teacher and the government is just spending too much money. They are not being very fiscally responsible."
Ufland said "Santa in the City" prices stayed the same to reflect the uneasiness with the economy among the general public.
Prices for Santa Claus photos range from packages starting at $19.99 to $22.99. Customers can also add on Santa photo accessories and get key chains or snow globes with their photo.
McCalla said he had a feeling the government would solve the issue somehow.
"This whole term 'fiscal cliff' to me is a made-up thing," he said. "I'm not sure that the world is going to end if they don't fix it."
As for Santa, despite the economy, he said this is more than a job.
"Once you put the red suit on you know right away whether it fits or not," Santa said.
This is his 15th year in the Santa suit and overall he observed a positive trend.
"There are more people here this year than last year because now they know that we are here," he said. "Word is spreading."