After taking back-to-back games, the Boston University women's basketball team will seek its third victory in a row when it takes on the University of Massachusetts at Case Gymnasium Wednesday night at 7 p.m.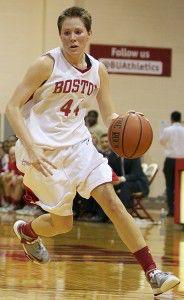 The last two games saw the Terriers (5–3) take control on both sides of the court. After defeating the University of Rhode Island single-handedly by a score of 54–29, the Terriers pulled an upset Saturday by defeating No. 15/17 ranked St. John's University. St. John's (4–2) came into the game highly ranked and regarded as one of the premier teams in the NCAA, but the Terriers made it look easy, cruising to a 17-point victory.
The Terriers did a great job spreading the ball around. Junior forward Rashidat Agboola and senior guards Mo Moran and Chantell Alford each scored in the double digits. The movement of the ball kept the Red Storm off balance and allowed the Terriers to control the flow of the game.
Junior captain Danielle Callahan added 14 points in the win. The guard has been a strong presence off the bench so far this season, averaging 8.5 points per game while recording a .432 3-point-shooting percentage.
The offense was accompanied by a strong defense led by junior forward Whitney Turner. Their defense held the Red Storm to 26.7 percent shooting for the first half, and a game total of 30.6 percent shooting from the field. BU held the Red Storm to only one double-digit scorer and held top offensive threat, guard Shenneika Smith, to only nine points.
Now standing in the way of a Terrier three-game winning streak is in-state rival UMass (2–6). Last season, the two battled it out in the early part of the year and BU dropped a close game by a score of 55–49.
"Our returning players remember that one," said BU coach Kelly Greenberg about the 2011–12 season's matchup. "We didn't play our best game, and I know they'll definitely want to play better than last time."
The last two seasons did not go the way the Minutewomen wanted. The 2011–12 season saw UMass finish a lowly 8–21 in the Atlantic 10 Conference.
This season has not started much better for UMass. Although it opened the season with a win against Kent State University, it dropped six of its next seven games, most recently losing its last game to Miami University by 10 points.
Looking at the numbers, it is odd to see UMass at such a low record. In their first eight contests, the Minutewomen are shooting 42.6 percent from the field and 38.2 percent from behind the 3-point arc, culminating in a scoring average of 62.9 points per game.
They also have three players who are averaging double-digit points on the season. They are led in most part by senior center Jasmine Watson. Watson, who is in her final year at UMass, has already compiled a strong season. She is shooting 56.1 percent from the field and is scoring an average of 14.3 points per game.
Also playing a large role in the offense is senior point guard Dee Montgomery. She leads the team in assists with 38, giving her close to five assists per game.
"We've been doing a nice job shutting down the other team's best player," Greenberg said. "So we're ready for Watson and their point guard Montgomery."
Not only have the Minutewomen scored at a nice clip, but they also have a positive rebound margin by 4.3 rebounds per game, helped in large part by Watson's 7.1 rebounds per contest. They are also averaging 1.6 more blocks per game than their opponents.
However, these numbers do not tell the full story. There is one key factor that has been hindering UMass all season long — turnovers. Through eight contests this season, it has averaged 24.4 turnovers per game, giving it a staggering negative 6.5 turnover margin. The turnovers have created many opportunities for opponents to turn the tide in games.
"Yeah we'd like to get turnovers," Greenberg said. "But we're not going to give any easy buckets, especially in transition, which they like to do."