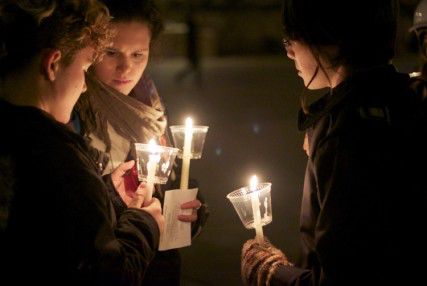 The Boston University community mourned the death of Christopher Weigl, a College of Communication graduate student, Thursday night, gathering in COM 101 to reflect and support each other, as well as on Marsh Plaza for a candlelight vigil.
Weigl was killed Thursday morning in a bicycle accident on Commonwealth Avenue and Saint Paul Street.
About 70 friends, colleagues, professors and administrators congregated in COM 101 to honor the young man they described as a wonderful human being.
"This has been one of those days where it is difficult to know what to say," said COM Dean Tom Fiedler . "What is important is that we support each other and that our thoughts and prayers go out to Chris's family."
Brother Larry Whitney of Marsh Chapel  came to offer spiritual support and share a message from Weigl's family.
"I had the privilege to spend a majority of the day with Chris's parents," he said. "I want to express on their behalf their concern for the Boston University community — Chris's friends, fellow students and anyone who may have known him well."
Bill Taylor, COM director of student services, said the organization of the tribute to Weigl was a collective effort.
"The joke of COM is that it is a COMmunity, and we saw that today," he said. "This is largely student-run and we are all leaning on each other during this difficult time."
A number of COM professors who taught and mentored Weigl spoke on his behalf.
Professor Peter Southwick, director of the photojournalism department, said Weigl was a talented student and his body of work speaks for itself.
"He told me he would like to use photojournalism to provoke thought and wonderment," he said. "That's a great word to describe Chris — wonderment. He would contradict me and deny that was true, but in my opinion, he was already there."
Sarah Ganzhorn, a fellow COM graduate student and friend to Weigl, created a website to honor him and his body of work. She included a video profile she had shot of Weigl earlier in the semester.
"He was a kid of fast friends, a leader," Ganzhorn said. "Chris was just the best."
Kiva Liu, a COM graduate student from China and a good friend to Weigl, said she was deeply affected by this tragedy.
"He was the first American friend I ever had," she said. "He cared so much about me and helped me with everything — school, English, men. Without him, I really can't do this. He was everything."
Liu passed the accident on her way to class, unaware that Weigl was the victim, she said.
"I saw the accident in the morning," Liu said. "I saw the white sheet and the blood. When I was in the library my friend texted me and said it was Chris. I couldn't stop crying. This is not fair, it shouldn't have been him."
Catherine Ring, a COM senior, said Weigl was an incredible student and person.
"He had an amazing spirit," she said. "He was such a talented guy and we all admired him."
More of Chris's friends as well as about 65 students, cyclists and members of the community gathered outside of Marsh Chapel for a candlelight vigil.
The Center for Gender, Sexuality & Activism organized the vigil to show support to the community in their grieving and raise awareness about bicycle safety, according to its release.
"The goal of tonight is to build community," said Swanson Ninan, the public relations coordinator for CGSA and a CAS sophomore, in the opening of the ceremony.
CAS junior Tanner Connolly led a performance of Leonard Cohen's "Hallelujah" on guitar and students held a moment of silence. Attendees of the ceremony then spoke about Weigl.
"It could have been any of us today, and I'm so glad we're all here," said CAS sophomore Rea Sowan during the vigil.
Pattaya Hongsmatip, a School of Engineering first-year graduate student, attended high school with Chris in Massachusetts.
"We went to a really small high school, so we all kind of knew each other," Hongsmatip said. "He was really soft-spoken, but generous and nice."
Rev. Cameron Partridge, Episcopal chaplain at BU, spoke about the need for a safer environment for bicyclists.
"I'm just struck by the fact that it was the second person to die in an accident within the month," he said. "I know a lot of people who ride bicycles, and I'm always really worried for them."
Partridge said he was impressed by how audience members at the vigil spoke about everyone affected by the accident, including the driver of the vehicle that struck Weigl.
"I thought it [the vigil] was really powerful," he said. "I was really moved that the students organized it and thought it was so important to come together as a community to stand together."
The website in memory of Christopher Weigl, created by the BU News Service, can be found here.