Reacting to slow economic growth, the dangers of the fiscal cliff and unexpectedly low tax revenue collections, Mass. Gov. Deval Patrick outlined a plan on Tuesday to slash $540 million from the fiscal year 2013 budget to close a large gap.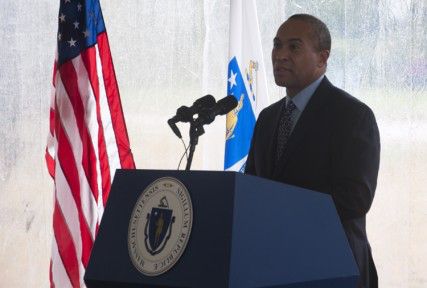 "The uncertainty of the fiscal cliff and the resulting slow down in growth, is the direct cause of our budget challenges," Patrick said in a press release on Tuesday.
The governor's plan, which would not seek increases in state taxes, is being justified through Section 9C of Chapter 26 of Massachusetts General Law, which requires Patrick to balance the budget when projected revenue is less than projected spending.
To reach this magic number, Patrick proposed a $225 million cut in executive agencies, which he can cut unilaterally. He also advocated withdrawing $200 million from the rainy day fund, as well as other cuts to programs, which he must get legislative approval for.
"This is a process and we will work with the legislature and our legislative partners to try and work out a budget that is most fiscally responsible for the commonwealth," said Alex Zaroulis, spokesman for the executive office of administration and finance, in an interview.
Zaroulis said the governor is aiming for balanced cuts and said no program or method to cut is off the table for the future.
"Going into fiscal year '14 this is continuing to be a challenging budget," Zaroulis said. "The cuts that were made yesterday by the governor are very difficult cuts to make and were done in a very deliberative and thoughtful way."
Some other smaller cuts by Patrick may affect education, but Lt. Gov. Timothy Murray promised continued support of education.
"This plan is a sensible way to deal with the impact on state revenues while maintaining the critical investments that are necessary for long-term economic growth," Murray said in the press release. "We are still investing the highest level of K-12 education funding in state history."
Education cuts include diverting $20 million from sales tax revenue meant to assist the Massachusetts School Building Authority and reducing funding by $9 million for unrestricted local aid.
This aid helps towns and cities pay for services like schools, libraries and fire departments said Laura Barrett, a spokeswoman for the Massachusetts Teachers Association.
"We are understanding why it's happening, but nonetheless it's going to be challenging," Barrett said in an interview. "These cuts are going to be very difficult for districts to deal with, especially since they are coming mid-year."
Barrett cited the special education circuit breaker, wherein the state reimburses towns with high special education costs at schools, as one that would probably be hurt by these cuts.
Since it is mandated that schools accommodate students with special needs, costs can rise quickly, with a single student sometimes costing a school upwards of $100,000, Barrett said.
"It just means that they are still going to get the services but the district will cut somewhere else," she said.
Barrett said cuts to schools could see the loss of arts specialists, reading specialists and elective classes, among other things.
Jay Gonzalez, secretary of the Executive Office for Administration and Finance reported the $540 million budget shortfall in a letter Tuesday, explaining that revised tax numbers showed a $515 million reduction in original predictions for 2013 tax revenue.
"This revenue will be insufficient to meet all authorized expenditures for the fiscal year," Gonzalez wrote in his letter.
Barrett said the cuts are not draconian, but will still pack a punch.
"These are not massive cuts," she said. "They are basically reducing spending down to the previous year. But given the cost increases and inflation, that's a big reduction. It will be challenging, but it won't be devastating."