College of Communication first-year graduate student Christopher Weigl had immense talent and would have made a fantastic journalist, said COM professor Mitchell Zuckoff, who taught Weigl in a graduate student seminar.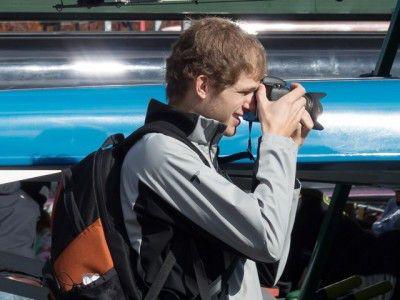 "Chris was an excellent student and a terrific young man," Zuckoff said. "He was smart, thoughtful, creative and inquisitive … I knew Chris as well as I could as his professor."
Weigl, 23, died Thursday morning in a collision with an 18-wheeler truck while riding his bicycle at the corner of Commonwealth Avenue and St. Paul Street.
He was studying photojournalism at Boston University and had aspirations of working for an international news organization.
"He had a passion for writing — he was an undergraduate English major — and photography," said COM Dean Tom Fiedler in an email. "He believed that by combining those interests as a photojournalist he could positively affect the lives of many people, perhaps as a staffer for the Associated Press, Reuters or other international news agency as he loved to travel abroad."
Weigl's father, Andy Weigl, remembers his son's love for photography as something beyond an interest in visual aesthetics.
"He's had a passion for photography, which then got morphed into a bigger, people-oriented thing," Andy Weigl said. "He didn't start out wanting to take pictures of people, but he found out that people were interesting and his passion sharped."
Andy Weigl said his son always had a camera with him and his attention to detail made him see the world differently than other people.
Fiedler said the entire BU community is grieving Weigl's death.
"The pain and heartbreak that this tragedy brings to his family and friends, as well as to the COM community, is incalculable," he said.
Weigl completed his undergraduate education at Skidmore College, according to his website. He graduated in May of 2011 cum laude with a degree in English.
"It was very clear to me that he was a passionate photographer," said Barbara Black, who was Weigl's professor in two English courses at Skidmore. "He was really well-loved by the other students in the class … It was so clear that he had this really substantial and developed friendships with other members of the class."
Andy Weigl said his son was always humble about his talents, and remained reserved even when seeing exciting payoffs for his work.
"He was very honest, would never brag about himself in any way, shape or form," he said. "He was understated. We knew when something big was going on if we get a note or a call to say something. [He was] very droll and modest even with us."
Zuckoff said Weigl was an inquisitive mind who constantly asked important questions.
"He didn't have a big ego," Zuckoff said. "It was not about calling attention to himself. It was really about his curiosity and expressing himself. I'm going to miss everything about him. He was a terrific student and a terrific young man … The loss is mine but the loss is larger than that. It's really a community loss."
Chris's mother, Bonnie Weigl, said he had a way of making everyone around him feel accepted.
"He did it with everyone who knew him, and helped people to feel so at ease around him," she said. "Because they knew he would accept them for whoever they were, whatever they believed, whether it was something he agreed with or not, as a result he had a wide variety of friends with a wide variety of interests and beliefs and sexual preferences and everything you can imagine because he was so accepting of everyone."
Peter Southwick, who was Weigl's photojournalism professor and academic advisor at BU since September, said Weigl was a gifted photographer with a passion for telling stories through his work.
"He was just a real bright light and he was somebody everybody wanted to be around," Southwick said. "He had a very high level of visual talent, creativity and skill, and the combination of those things were going to give him a very bright future. It's a terrible tragedy to see someone who had so much promise have their life ended."
Weigl was a warm person who easily got along with everyone he met, Southwick said.
"He was a very pleasant guy, which is vital in our profession," he said. "It's not a side light, you need to have the skill, the ability to connect with people on an intimate level so then you can tell their stories … He was constantly upbeat, he had a smile on his face — nothing seemed to faze him."
Southwick said he will remember and miss Weigl's warm spirit.
His brother, Dustin Weigl, a senior at Middlebury College, remembered a lighter side of Chris. He recalled a time the two had gone to dinner with their older cousin.
"We hadn't had zucchini before, there was zucchini at dinner and he [Chris] was refusing to eat it — texture, probably," Dustin said. "He refused to eat it and our older cousin offered to pay him $5, and that's what made him eat it. He wouldn't eat it for anything other than a monetary value."
About 70 members of the BU community gathered in COM Thursday night to offer support and remembrance. The Center for Gender, Sexuality & Activism also organized a candlelight vigil Thursday night in Marsh Plaza for about 65 people.
Funeral arrangements have not been announced as of Thursday night, said BU President Robert Brown in an email to the community. Counseling through BU is available.
Amy Gorel, Steph Solis and Margaret Waterman contributed to the reporting of this article.