Voter registration, dog licenses and e-Library cards are among the few "menu" items Boston residents can order in the city's first mobile city hall — a vehicle inspired by Boston's food truck scene that will travel throughout the city offering government services.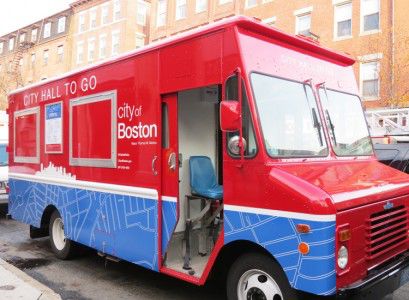 The truck, called City Hall to Go, allows pedestrians to make ticket payments, permit requests and renewals, certificate requests and property tax payments, according to the City Hall to Go menu on the City of Boston website.
In addition to convenience, the van is designed to reach people who may not have access to the Internet or understand the process of dealing with City Hall, said Katharine Lusk, program director for City Hall to Go.
"Many people don't necessarily have Internet at home or at their workplace," Lusk said. "The idea really is to give a face to the City of Boston. It's a very visible way that we can provide more direct services."
Elderly community members and immigrants within the city are two demographics to which the program might be especially helpful, Lusk said.
The program emerged as a part of the Bloomberg Philanthropies Mayor's Challenge, and the mayor's office decided that it was worth pursuing, Lusk said.
The Mayor's Challenge is a national competition in which cities submit an idea to address a prevalent social issue.
"It seemed like a good way of engaging the community," she said.
During the weekend, residents who saw the van in different neighborhoods were very receptive, said Justin Holmes, director of constituent engagement.
"It's been phenomenally positive," Holmes said. "We've got a lot of great press attention, and the folks that we've met out in the neighborhoods are very excited about the opportunity to deliver services to their neighborhoods directly, which is great. It's a real part of the reason the mayor came up with the idea. Government should be accessible to the people that we serve."
The program will become a staple in Boston in the spring at block parties and street festivals while offering seasonal services during the year, according to a press release from Menino's office.
The schedule for the program's transportation is still being planned, but will start likely in late March or early April, Lusk said. Officials are seeking input from residents as to where the van should stop on its route.
Dave Masciuilli, a banker from Medford, said the program is a good idea in theory, but he is not sure if it is a necessity.
"Parking is a big issue, but I usually just pay tickets online," he said. "Most of the information is online, so that's the only issue. But it's a good P.R. vehicle."
Jian Zhang, a 38-year-old computer worker from Allston, said she was interested in how the truck will run.
"This is a great start," she said. "I want to find out more about it and where available locations are."
Photographer Jeremy Fraga, a 25-year-old resident of Boston, said City Hall to Go might help ease the time constraints of certain city offices.
"Those offices are never open when you want them to be," he said.
Though the process will be more convenient for residents, it will not change the way City Hall functions, Lusk said.
"For city departments, it will be business as usual," she said. "Many of the transactions that are coming through on the truck will be processed back here at City Hall whether they are input online or there is a form filled out."
Since this is the first program of its kind in the U.S., many officials hope that it can be an example for other cities in the U.S., Lusk said.
"We absolutely do hope that other cities will follow our lead," she said. "In a way, there is no road map, so we can learn a lot from this process, and we learn as we go. Then we can share that information with other cities."