Calling for "Jobs, not cuts," dozens of protesters lined up outside U.S.  Sen. John Kerry's Boston office Monday calling for the protection of social programs in the face of the upcoming "fiscal cliff."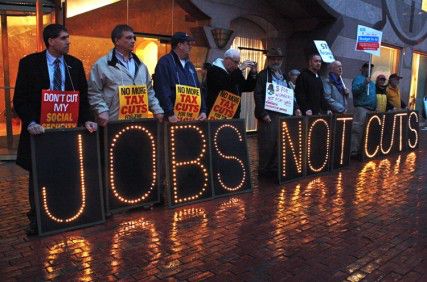 The rally, a joint effort of the Greater Boston Labor Council, American Federation of Labor and Congress of Industrial Organizations, Moveon.org and Massachusetts Peace Action, followed an earlier protest at Faneuil Hall that also addressed the impacts of the country's possible future financial troubles.
"We want tax equity in this country, and we don't want the most vulnerable people — the poor and the seniors — to lose their safety net," said Rich Rogers, executive secretary-treasurer of the GBLC and one of the rally's organizers, to the crowd.
Steven Tolman, president of the Massachusetts AFL-CIO, said he does not mind paying his fair share of taxes, and is even happy to do so.
"That's the same way it should be for every category of our wage system, and maybe we need to make some changes, but the changes should be focused on the middle class," he said. "The middle class has been whacked, hurt and deceived for the last 30 years and we can't take it, and we shouldn't take it and we won't take it."
A number of the protesters, especially the older members of the crowd, said they had a personal stake in the upcoming fiscal cliff battle.
"I used to be president of a local union and now, like tens of millions of other Americans, I am retired and depend on social security to pay my bills, and Medicare to insure me against illness," said Jeffery Klein, the former president of the National Association of Government Employees.
Protesters and organizers said social programs need protecting and other actions should be taken to balance the budget.
"There are other things that you can do to balance the budget besides cuts across the board. You can decrease corruption or increase efficiency," said MoveOn.org representative Liz King to The Daily Free Press. "You can do all sorts of things that don't lower people's access to service, but no one is looking into that."
Many protesters were also involved in a referendum passed in 91 Bay State cities and towns that would ask representatives not to cut social benefits.
Lyn Meza, a 67-year-old Chelsea resident, retired General Electric employee and union leader, told the Free Press that more than 600,000 voted in favor of the referendum question.
"We are opposed to any grand bargain that's going to reduce the age for Medicare eligibility or change the requirements for social security and we think he [Kerry] should listen to the voters," she said.
Cole Harrison, a 59-year-old representative of Massachusetts Peace Action from Roslindale, said he feared that a deal to balance the budget would put social programs most at risk.
"Even though some of the Democrats are talking about raising taxes on the rich, they're willing to make these terrible compromises in exchange for those taxes," Harrison said.