Tuesday night, the Boston University men's basketball team will take the two-mile trip to Allston to take on Harvard University at the Lavietes Pavilion.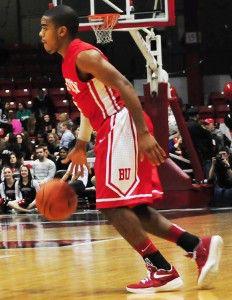 The Terriers (3–5, 0–0 America East) are coming in hot after traveling to Conway, S.C., and defeating Coastal Carolina University, 69–63, to increase their win streak to three games.
BU's streak started against Coastal Carolina (2–5) when the Chanticleers came to Boston and were blown out by the Terriers by a score of 74–44.
From there, BU went on the road to take on St. Peter's University in Jersey City, N.J., where it recorded another quality victory.
Meanwhile, the Crimson (4–4) are coming off of a tough 57–49 road loss against the University of Connecticut. The loss ended their two-game winning streak that was started by impressive wins against Boston College and Fordham University.
"One of the things we have to do a good job of is in our transition defense and not giving up easy shots," said BU coach Joe Jones. "We really have to be composed and solid throughout the shot clock and be committed defensively."
A key matchup to look out for in Tuesday's game will be the battle between the two freshman point guards.
BU's Maurice Watson Jr. has quickly progressed this season into one of the team's best players.
His quick speed and ability to get the ball in the hoop make him a big threat on the court for BU, especially since he has slasher D.J. Irving at shooting guard and sharpshooter Travis Robinson on the wing, both awaiting his passes.
So far this season, Watson is fourth in scoring with 10.1 points  per game for BU, behind Robinson, Irving and junior forward Dom Morris.
Meanwhile, the Crimson have Siyani Chambers running the point. The freshman guard out of Golden Valley, Minn., is Harvard's best player this season.
Chambers is averaging 11.5 points per game, 5.1 assists and is similar to Watson Jr. in many aspects. If given opportunities to score, this small yet quick athlete will capitalize.
"It's got to be more of just stopping Chambers, like any good player," When asked about the matchup between Chambers and Watson Jr., Jones said. "It won't just be Maurice guarding him."
Something else to keep an eye out for throughout the game is how BU does down low.
For the first time this season, the Terriers will be facing a team similar in size, and possibly even smaller.
When it comes to Harvard's starting roster, there is not a single player taller than 6-foot-6. With the Terriers likely starting 6-foot-7 forward Dom Morris, they will likely have a bit of a size advantage.
"Dom has played well. That's gonna be one of the things we try to do," Jones said about getting the ball to Morris. "I don't think we're going to do anything special. We always try to get him involved."
Look for BU to work the ball down low as much as possible to start off the game, and continue to work that strategy until Harvard finds a way to stop it. Those high-percentage shots could help BU build a lead and take pressure off the shooters.
If it is able to execute this strategy, the team will be able to play a more balanced game of basketball, something Jones has been emphasizing since the beginning of the season, and it will also help the team pick up its fourth victory.
"They have done a great job with the program, and it will be a good test for our team," Jones said.