Kate Hohenstein, president of the new Eta Chi Chapter of Kappa Alpha Theta at Boston University, said Theta brings together a diverse group of women who will give a revitalized energy to BU Greek Life.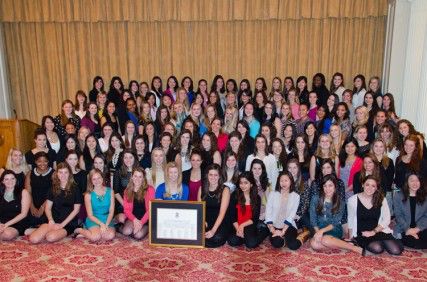 "All of our members are driven women who know how to carry themselves with grace," Hohenstein, a College of Arts and Sciences sophomore, said in an email. "But we have a complimentary side — a side that's outgoing and charismatic. I think the combination makes a dynamic spark that will both diversity us against and ignite friendship between the other sororities on campus."
The Eta Chi Chapter of Theta was officially installed on Dec. 2 after spending the fall 2012 semester in a colonization period, said Linda Swift, Panhellenic Council president in an email.
Theta welcomed a founding class with 116 members, who are now active sisters of the sorority, Swift, a School of Management senior, said.
"There has been a lot of excitement associated with bringing a new chapter to campus," said Swift, and SMG senior, in an email. "Theta has been a very exciting and rewarding process for the Panhellenic Council and the community as a whole. They add a new chapter, new women and new traditions."
Elizabeth Mundy, an educational leadership consultant at Kappa Alpha Theta who has worked to establish Theta at BU, said Theta's Grand Council and headquarters aimed to establish a chapter at BU because it was a community with a positive environment, strong support system and admirable values.
"It was very apparent during our fall recruitment process that this [Theta's] rich history attracted women on campus who had not previously pictured themselves as sorority women," Mundy said.
Hohenstein, who had not gone through formal recruitment and did not know much about Greek Life, said she realized what Theta stood for aligned perfectly with her personal values when the organization began actively recruiting in the fall.
"I hope that by joining Theta, other women would recognize that a Greek Life member doesn't just have one mold and that potential new members similar to myself would feel that it was possible for them to have a place in the Greek community," she said.
Hohenstein said that as president she is eager to be able to establish an organization and impact the way it develops.
"It truly is a once-in-a-lifetime opportunity that you get to establish something from the start — building its reputation and watching as well as influencing how it grows," she said.
On Sunday, the officers of the chapter were officially installed, Mundy said.
"From there, the officers will be setting goals and working toward common objectives," she said.
The addition of Theta allows Greek Life to continue expanding and adds another philanthropy project, the Court Appointed Special Advocates, Swift said.
"CASA supports abused and neglected children going through the court system," Mundy said. "Theta will support the local Boston branch of CASA this spring through our signature philanthropy event."
The addition of Theta is in response to the growing interest in Greek Life at BU, Swift said. In the spring 2012 semester, more than 630 women attended Formal Recruitment, leading to large new member classes in many of the sororities, Swift said.
"It is important because as we have grown dramatically in the past few years and more women have decided to participate in Formal Recruitment, our chapters have grown to very large sizes," she said. "If numbers are similar this year even with the addition of Theta, we may choose to expand again, adding another chapter to our campus."
Hohenstein said that despite being a new sorority on campus the other members of BU's Greek community have welcomed Theta.
"For a lot of women there was a hesitation to how we would be perceived, especially being a new member of the Greek community," Hohenstein said. "But the Greek men and women as well as BU as a whole have given us nothing less than an open-armed reception."
Swift said integrating Theta into BU Greek Community has been a positive experience.
"Theta has been welcomed with open arms within the Greek Community," Swift said. "It has been amazing to see them grow and make connections this summer."