The Boston University women's basketball team walked out of Case Gymnasium with another overtime victory Monday, this time over Harvard University by a score of 68–61.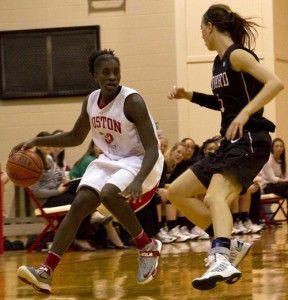 In the early part of the game, it was clear that the two teams would be matching each other blow-for-blow.
Harvard forward Temi Fagbenle got the scoring started with an open layup for the Crimson. Fagbenle was a thorn in the side all game long for the Terriers, as she recorded a double-double in the effort, scoring 14 points and grabbing 14 rebounds.
The Terriers would not give in, however. Senior guard Chantell Alford led the Terriers, helping them keep up with Harvard in the first half.
Although the Terriers would stay close in the game, they did fall behind, 12–9, after Harvard senior Miriam Rutzen hit back-to-back layups.
After this quick burst by the Crimson, BU coach Kelly Greenberg subbed in junior guard Danielle Callahan, who has been a sparkplug for the club all season long. After her strong defense led to a Harvard travel, BU went on a quick run, going up 23–16 after hitting four threes in as many possessions, with Callahan hitting two of them, Alford hitting one and senior guard Kristen Sims adding one in as well.
However, due to BU's lack of consistency and forced shots toward the end of the first half, Harvard got good looks and hit some big shots. The Crimson took a 31–27 lead going into the break.
Although the Terriers were still in the game in the first half, and only down by four, things quickly seemed to get out hand for them. After Harvard forward Victoria Lippert drained a three, Harvard was leading 39–30.
"We could've let the game get away from us," Alford said. "We made big stops on the defensive end and big plays on the offensive end."
BU seemed to readjust after a timeout, and it hit some clutch shots to propel itself back into the game.
Senior guard Mo Moran hit a three, followed by Alford hitting one of her own. On the next possession, Moran drove the lane, hit her shot and was fouled in the process, resulting in the Terriers tying the score at 39.
"It's always nice when shots go in," Greenberg said. "It was a couple of transition baskets that got us back."
After BU tied the score at 39, things again seemed to go back and forth, although Harvard still absorbed BU's punches. Led by Fagbenle, Lippert and Rutzen, the Crimson again took the lead, going up by as much as five with about five minutes remaining in the game.
Sims answered though, and  hit a quick three before junior forward Whitney Turner got her shot to go after a friendly bounce and the game was all tied at 54–54.
After Rutzen put Harvard up again by two, Alford drove the lane, was fouled on the way up and got her shot to fall. The subsequent free throw put BU on top, 57–56, with 45 seconds to go.
Harvard did not go away quietly. It eventually sent Fagbenle to the line after a frantic change of possession by both teams, leading to a BU foul. Fagbenle hit one of two, setting BU up for a chance to win the game with 22 seconds to go.
After BU called a timeout, Moran moved the ball around and passed it to Sims near the foul line. Sims took an off-balance shot that missed the rim, sending the game to overtime.
"I certainly wasn't crazy about our last shot," Greenberg said. "I wasn't crazy about our last shot at Marist, too."
The initial part of the overtime saw the Crimson jump up by four after consecutive misses by BU and baskets by Rutzen and Fagbenle.
Down by four, the Terriers regrouped. Led by Callahan and Alford, BU jumped ahead by one.
The BU defense then stepped up. It did not allow a basket for the final 3:45 of overtime. After Harvard missed multiple times, they were forced to intentionally foul and send Danielle Callahan to the line.
In her two trips, she was a perfect four-for-four, all but sealing the BU victory. After one last miss for Harvard, BU closed out another tight contest, giving it its fifth straight win.
"We gutted it out," Alford said. "It wasn't the prettiest game. But we stuck with our game plan and made adjustments."