When Barney Frank joined Congress in 1981, he had still not openly come out as a gay man. In fact, equal marriage rights for LGBT citizens during the Reagan administration, or what political scientists call a conservative revolution, would not even begin to pass until after the turn of the century.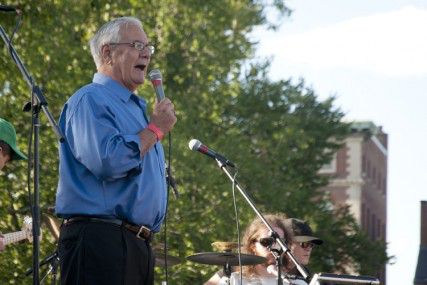 Although there are still obstacles for liberal views on legal issues such as reproductive rights, marriage equality and equal-pay laws, Frank said people opposed to equal rights are dwindling.
"I think we will establish complete equality for people," he said in an interview with The Daily Free Press. "I believe strongly in personal freedom."
The U.S. Congressman, who represents Massachusetts' fourth district, said he had first been inspired to enter the political arena as a young adult.
"My civil rights activism started when I was in college," Frank said. "I was supportive of all reproductive rights, gay rights and free speech."
He said he began his political career as an assistant to former Boston Mayor Kevin White, but when he entered Congress he became "very, very active again."
During his time on Capitol Hill, Frank's accomplishments as a Democratic representative included his repeal of "Don't Ask, Don't Tell," economic policies such as the 2008 bailout during the U.S. financial crisis and the founding of the National Stonewall Democrats, an organization that advocates for LGBT rights.
Although not all states agree on equal marriage rights, Frank said the U.S. has still been improving in terms of support for civil rights, noting the reelection of President Barack Obama, who endorsed such rights as same-sex marriage in May.
"I'm very pleased with the progress we've made," he said.
Frank, who married his partner Jim Ready in July, will be succeeded by another newlywed, Joe Kennedy III, in 2013.
"For over three decades, Congressman Barney Frank has represented the fourth district of Massachusetts with skill, tenacity and an unparalleled commitment to his constituents," he said in a statement to the Free Press. "He is a crusader for social justice, a tireless advocate for the people and businesses of this district, and a dear friend and mentor. I am honored to follow in his footsteps."
Political science professors at Boston University said that after Frank leaves Congress, certain liberal public sentiments will continue to increase among young voters, but challenges remain for equality in civil rights.
Douglas Kriner, who teaches political science, said one of the most significant differences between Frank's 1981 debut in Congress and 2012 has been a major nationwide shift toward LGBT support.
"In the 1980s when Congressman Frank entered Congress, I can't imagine anyone would really wonder about gay marriage or gay members of the military openly serving as such," he said.
He said nationwide equal marriage laws would have to come on a federal level, and would therefore need a favorable Supreme Court decision.
University students, even those who identify as conservative, Kriner said, are widely in favor of LGBT rights.
"Most conservatives that I talk to, it's not where they are — they tend to be more socially liberal, but fiscally conservative — that's why they still identify as conservative," he said.
Regarding Frank's career, Kriner called him a "liberal lion" during a "conservative revolution."
"Liberalism was sort of waning as a political force in the early 1980s," he said. "How interesting [it is] that Congressman Frank is elected during the Reagan revolution. He's elected as a liberal lion at a time when conservatism is on the rise."
During Frank's early days in Washington, D.C., he said, LGBT advocates were still a minority.
"With Congressman Frank, you end up with this very interesting liberal voice who cut his political teeth during the time of a conservative revolution," he said, "and then has been there for this dramatic change in civil rights for gays and lesbians that I don't think you could have anticipated in 1981."
Tim Buckley, spokesman for the Massachusetts Republican Party, would not speak directly to LGBT rights, but said party members are open-minded on many issues.
"The MassGOP has always been a party of big ideas, encompassing a wide variety of opinions on social and fiscal issues," he said in an email.
As far as Congressional runs, he said the platform of Richard Tisei, of the sixth district, was notable.
"One of the biggest races for the GOP last cycle here was Tisei for Congress — an openly gay man," he said. "He also had the party's nomination for lieutenant governor in 2010."
Katherine Levine Einstein, another BU political science professor, said liberalism is largely a generational concept, and political change comes with the generational transition, with Millennials at the forefront.
"If you look at public opinion data, Millennials are more liberal than Gen X–ers, who are generally more liberal than Baby Boomers, who are generally more liberal than the Silent Generation on certain issues," she said.
She said young adults born after the 1980s are "overwhelmingly, by most public opinion surveys, in support of gay marriage and LGBT rights more broadly."
Looking ahead to the future of LGBT rights, Levine Einstein and Kriner said youth voters are becoming increasingly liberal on same-sex marriage ideas.
As far as his future, Frank said he plans on writing two books on liberalism and LGBT rights. But as far as his impact he left behind in Congress, Frank would only say one thing.
"When people start to talk about legacy," he said, "it sounds arrogant."