In response to a series of biking accidents that have taken place in 2012, city officials and local advocates seek to improve bike safety and education as Boston's biking culture grows with initiatives such as Hubway and an increasing number of bike lanes.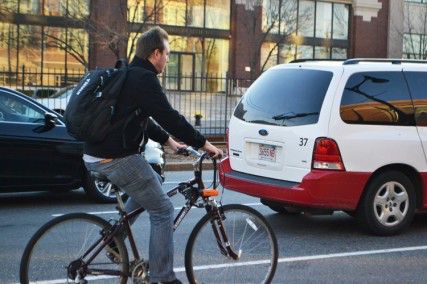 Dec. 6 marked the fifth biking fatality in the city, after 23-year-old Boston University first-year graduate student Christopher Weigl was struck and killed on the corner of Commonwealth Avenue and Saint Paul's Street by a tractor-trailer truck.
The accident follows another fatality in the BU community, in which BU student Chung-Wei Yang was killed in the Nov. 12 incident involving a Massachusetts Bay Transportation Authority bus.
Both incidents are still under investigation, said Boston Police Department officer James Kenneally.
City Councilor At-Large Felix Arroyo, of Jamaica Plain, expressed his condolences for the victims of accidents, and the need to improve the biking infrastructure throughout the city.
"My thoughts and prayers have been with the family and friends of this young man [Christopher Weigl]," Arroyo said. "This tragedy re-emphasizes the importance of making our streets safe for cyclists. I look forward to continuing to work with Councilor Pressley and the administration to improve our infrastructure and make our streets safer."
City councilors discussed the tragedy at a previously scheduled bike safety hearing in city hall later on the same day Weigl was killed. City Councilors At-Large Ayanna Pressley, of Dorchester, and Arroyo called the hearing.
During the hearing, Pressley said she has high hopes for improving biking in Boston.
"We want Boston to be the safest bicycling city in the country," she said in a recording from the City Council Video Library. "I view bike lanes as an equal part of our transportation infrastructure."
Executive Director of the Boston Cyclists Union Pete Stidman said the hearing was a promising move toward improving bike safety.
"For the first time, the city is going to analyze three years of police narrative reports which contain the best information about cause of accidents," he said. "We are still pushing to get information on the severity of each action to be able to correlate that with the cause."
Stidman said his union is trying to raise awareness throughout the city and hopefully change current city policy concerning bikers.
"We are trying to get physically separated bike lanes called cycle tracks in different parts of the city," he said. "They have been proven to reduce the risk of injury and increase the number of cyclists that feel comfortable biking."
In 2012, the number of accidents has risen by 5 percent while the number of people riding has increased by 31 percent, Stidman said.
"You can tell that the actual rate of crashes is going down, so there is less risk involved for each cyclist," he said. "But the accidents are really bumping up on the radar because we have so many people riding."
Between 2007 and 2009, Boston augmented 15 miles of bike facilities to roads and added 500 bicycle racks, according to the State of the Hub Boston Bikes Year End Update from 2009.
Cheryl Fiandaca, the Boston Police Department's bureau chief of public information, said the department is proactive when it comes to bike safety and educating cyclists.
"Officers are routinely out with both education and enforcement, issuing warnings and citations for all bicycle civil violations," she said. "The BPD provides free helmets and bike light coupons and hands out pamphlets regarding safety information."
Jack Johnson, marketing director for Landry's Bicycles, said the store does its best to educate all cyclists that come though its doors.
"We educate people on bike safety, everything from encouraging people to wear helmets, to wear lights when biking at night," he said. "Our staff is always advising especially newer cyclists on things they will need to be safe."
One of Landry's four Massachusetts locations is on the corner of Commonwealth Avenue and Saint Paul's Street, near where Weigl was killed.
"Thursday's accident pretty much happened at our front door," Johnson said. "The staff were pretty shaken up by that because some of the staff were in the store when it happened. It is a terrible, emotional thing when it happens so close to home."
Johnson said everyone on the roads needs to watch what they are doing, and there is a lot of car and truck traffic in the urban environment.
"We all need to a better job of being vigilant and paying more attention to what is going on around us and following the rules that are out there," he said.