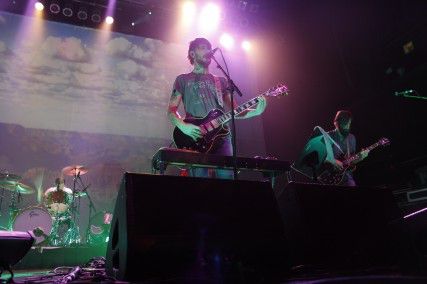 "He's so tiny I could almost break him in half!" crowed a middle-aged woman as Band of Horses frontman Ben Bridwell and company took the stage for a concert Sunday night at the House of Blues. And while yes, Bridwell is a bit on the small side, he packs the soaring voice (and mighty beard) of a man of much larger stature, which helped to make Sunday night's performance so powerful.
Despite their Pacific Northwestern roots, Band of Horses rocked the House of Blues like a band born and bred in the rural Midwest. Donning a navy blue trucker hat, Bridwell careened through a largely up-tempo set list, belting out songs about "great salt lakes" and Laredo, TX., as images of purple mountain majesties and amber waves of grain flashed on the giant backdrop behind him.
Opening act Jason Lytle, however, was no indication of the coming rambunctiousness. Clad in a flannel shirt and a snowflake-patterned winter hat, Lytle weaved sweeping soundscapes with his breathy voice in an attempt to cast a warm, sleepy haze over the crowd. Unfortunately, the sold-out venue was having none of it, and the buzz of conversation almost overpowered much of Lytle's subdued set.
From the first song choice, the raucous "Ode to LRC" off of 2007's Cease to Begin, it was clear that Band of Horses would be the ones doing the overpowering. With four albums under their belt, the band has a rather wide and diverse arsenal at their disposal. Yet they continually eschewed their ballads for loud, fast-paced anthems and fan favorites. Even though Bridwell initially warned the crowd that they would not be playing "The Funeral," arguably Band of Horses' most well known song, the band closed their set with it, eliciting excited shrieks and sing-alongs from fans.
The few times that the band did slow down, such as for "Window Blues" from Cease to Begin or "Older" off of 2010's Infinite Arms, were met with reverent silence from the crowd, a far cry from the cacophony Lytle had to deal with at the beginning of the show. It was clear that these people were devoted, and here for Band of Horses and Band of Horses only.
The band did a decent job of catering to these fans. Though I expected the majority of their songs to come from their latest LP, Mirage Rock, the set was instead peppered with a fairly equal amount of tracks from all four records, which was surely a welcome surprise to both new and old fans alike.
Apart from the rare detour into a quieter number, the band's rapid-fire set was only interrupted by extensive breaks to change instruments between songs. This soon became distracting and made the entire set seem to drag on unnecessarily, but might be chalked up to some kind of pedal problem Bridwell alluded to at the beginning of the show. This may also be why the band only performed a disappointing, single-song encore.
Ultimately, Band of Horses' live show is charged with a kind of genuine Americana that one is hard-pressed to find in the current music landscape, and that is best enjoyed in a cowboy hat with a side of apple pie.