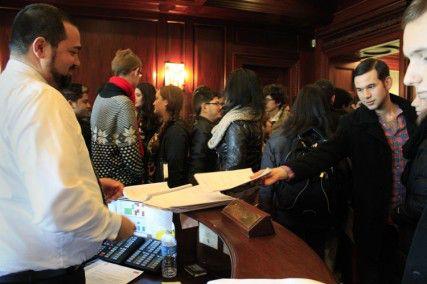 About 50 students were threatened with arrest Friday afternoon after storming Boston University President Robert Brown's office demanding accountability and gender-neutral housing as a top administrative priority.
A petition was drafted in response to a Sunday announcement that administration had indefinitely halted SG's gender-neutral housing initiative despite previously saying gender-neutral housing would be available at an unspecified future date.
While in Brown's office, students of Gender Neutral BU handed out copies of the gender-neutral housing proposal written by members of BU Student Government.
Students left after Dean of Students Kenneth Elmore announced they would be arrested if they did not leave. At least four police officers entered the building armed with zip ties and pepper spray, but no students were arrested.
"We are not going to have a conversation about this right now," Elmore said.
Students marched into Brown's office chanting demands for safe living spaces for students free of discrimination and harassment.
"I'm here because, as a trans-woman, I want President Brown to tell me to my face that I don't deserve housing on BU's campus," said College of Arts and Sciences sophomore Jasmine Jacquelin.
After leaving 1 Silber Way, about 30 students from Gender Neutral BU marched to the George Sherman Union shouting that they had just been threatened arrest while sitting in the president's office.
"We are here to let the student body know what just happened to us an hour ago when we were sitting in the president's office," students shouted. "We will not tolerate the threat of police brutality on our campus."
Fall 2012 Student Government President Dexter McCoy said student demonstrators sent a powerful message and should continue to fight for gender-neutral housing over winter break.
"It's our time to strategize, to talk about what's going to happen moving forward, what we're going to stand for, what we're not going to stand for," McCoy, a College of Communication junior said. "Continue to stand up for what you believe in."
College of Engineering sophomore Declan Bowman said he thinks the issue is important because hetero-normativity and binary-normativity are forms of discrimination.
"I have a strong sense of moral obligation to fight discrimination that affects anyone," Bowman said.
Nina Pollack, a CAS senior, said BU Housing currently does not provide transgender students with adequate options.
"I'm here because the current options for gender-queer or transgender people to move into a single or move off campus," Pollack said.
Suzi Pietroluongo, a junior at Emerson College, said her school provides students with the option of gender-neutral housing.
"Every student should have the opportunity to go to a college that is that accepting of people's gender and sexuality," she said. "I'm here to bring what Emerson has to BU."
Connor McKellar, a Metropolitan College junior, saw Gender Neutral BU chanting in the GSU and said the group's presentation was inappropriate.
"While staging this sit-in, they [Gender Neutral BU] expect people to cave to their demands even though there are a lot of other factors they haven't considered," he said.
He said the administration was not directly trying to stifle transgender rights by shutting down the initiative.
"If you are to allow gender-neutral housing, a lot of problems can arise from that that the administration has taken into consideration," McKellar said.
Anna Martin, a Sargent College of Health and Rehabilitation Sciences sophomore, said she is sympathetic to the students advocating gender-neutral housing for LGBTQ reasons.
"They have a right to be upset," she said. "I think they should have the right to at least have a meeting with the president or whoever is in charge of talking about the possibility."