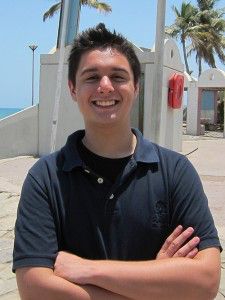 Even in his greatest times of need, Boston University student Sammy Habib always found a way to help and care for his friends, said his girlfriend Louise Andersson, a Sargent College of Health and Rehabilitation Sciences junior.
"Everyone who has met him considers it to have been a blessing and a privilege, sincerely seeing a purpose to having known him," Andersson said in an email. "He always found a way to be there for others, even in the toughest times."
Habib, an international student from Muscat, Oman, died Dec. 29 in Tufts Medical Center due to complications from a heart condition. He was 20 years old.
He spent a year on a transplant list with a strong desire to get back to BU to continue his education so he could graduate from the College of Arts and Sciences in 2014, Andersson said.
"He really saw himself back at school; I think it is the one thing that he felt sure of for his post-transplant life," she said. "He had to keep sending in requests for extensions on his leave of absence and I know that was really hard for him."
Habib attended Boston University for two full semesters before his sophomore year was cut short when he went to Student Health Services for chest discomfort, Andersson said. Habib then went to a hospital and he was told his heart was running at a third capacity. He was diagnosed with cardiomyopathy and heart failure.
"He was shuffled between hospitals in Boston as different modes of therapy were tried, but it was eventually decided that a heart transplant would be the only viable option," Andersson said. "He underwent several surgeries, the major one being the one in Dec. 2011 that installed the [biventricular assist device], a mechanical device that aids in circulation and pumping blood."
Despite the diagnosis, Habib had the power to brighten the day for his doctors, nursess and fellow patients while in the hospital, Andersson said.
Habib's roommate Michael Myers, a School of Management junior, said Habib always tried to get to know people he met and make them feel comfortable.
"He had a lot of friends, but he didn't get caught up in typical college shenanigans," Myers said.  "He was a really curious guy and wanted to get to know people and other times see what was going on."
Andersson said Habib was able to draw smiles from most people he met, including his cardiologist.
"He had a way of putting people at ease and making them feel comfortable, he was so incredibly friendly and likeable," Andersson said. "I think the number of friends he has made all over the world and in Boston, even while in hospital – especially while in hospital, is a testament to this."
Sayeed Ahmed, a School of Management junior, said Habib's friendliness and good spirit helped calm his friends during his struggles.
"We were all tense when we went to go see him the first time and nervous of what we were going to see," Ahmed said. "When we got into the room he was hooked up to the [BiVAC] and he was sitting there cracking jokes and seemed completely fine. That was the quality about him that made it so easy to befriend him and hang out with him in general."
Ahmed said Habib gauged people well and was keen to joke in a friendly manner.
"Even before we all left school for break he seemed calm, not like he was ready, but he seemed at peace with where he was and with his situation," Ahmed said. "It was definitely tough for the rest of us, but that's why a lot of us are able to come to terms with it easier."
A service will be held Jan. 9 in Lake Wales, Fla. for his family and friends from around the world.