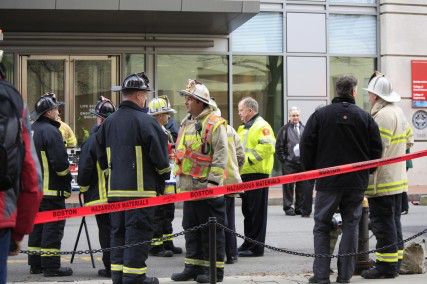 Emergency responders evacuated the Life Science and Engineering building, located at 24 Cummington St., Tuesday morning after a spill in a chemical lab on the seventh floor, officials said.
Boston University spokesman Colin Riley said the building was evacuated just before 11 a.m. after about a liter of a solvent commonly used in experiments was spilled. The solvent, he said, would only be dangerous under certain circumstances, such as if it were under high pressure.
"There was a graduate student working in the area who inadvertently knocked over the solvent," Riley said.
While there were about five people in the surrounding area, there were no reported injuries, Riley said.
Boston Fire Department later confirmed via Twitter the solvent spilled was decahydronaphthalene.
Traffic access on Cummington Street was halted as emergency vehicles arrived. Responders put up "hazardous materials" tape to block off the street.
About five Boston University Police Department and Boston Police Department vehicles, about three ambulances, about 10 fire vehicles and three fire trucks and one Boston Fire Department mobile decontamination unit responded to the scene at 24 Cummington St.
At least a dozen emergency responders, mostly firefighters, helped secure the scene.
Riley said all 12 floors of the building were evacuated immediately for safety reasons.
After clearing the area, emergency responders waited to allow Clean Harbors Environmental Services, an environmental cleanup company, to clean the affected area.
"Clean Harbors is the company that we have a contract with to do cleanup," Riley said. "They do a lot of environmental responses."
BU sent out an alert to students around 11:30 a.m. warning of the spill and directing an evacuation.
While the spilled solvent was not immediately dangerous, Clean Harbors neutralized the spill for procedural reasons.
"There are standard operating procedures — trained cleanup companies come in," Riley said. "The spill was cleaned up and we reoccupied the building at 1:00 p.m."
The incident occurred before the official start of the semester, and it is not uncommon for research to occur before classes begin, Riley said.
"It is typical that graduate students would be able to go into the labs," he said.
Students conducting research for or with professors are permitted to use the labs as they open, he said.
On Oct. 15, Spandan Chennamadhavuni, a post-doctoral chemistry associate student, suffered mild injuries to his arms and face in a trifluoroacetic acid reaction spill on the eighth floor of the Life Sciences building.
The building was evacuated and BUPD, the BFD and Boston Emergency Medical Services responded to the scene.
Chennamadhavuni was brought to Brigham and Women's Hospital shortly thereafter.