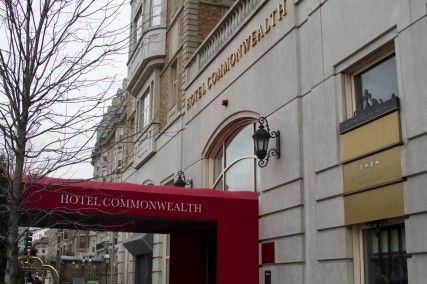 Boston University's decision to sell the Hotel Commonwealth was part of a long-term plan to develop Kenmore Square, as BU never intended to retain ownership of the hotel, BU officials said.
"It was our goal all along that, after the improvement and after [Kenmore] Square became vibrant and safe again, we would be able to move out of there and let someone else take over," said BU spokesman Colin Riley.
BU's ownership of the Hotel Commonwealth was part of an urban revitalization plan for Kenmore Square and the surrounding Fenway area, said BU spokesman Tom Testa.
"The Hotel Commonwealth sale is aligned with Boston University's long-term interest in improving Kenmore Square as a commercial gateway to the Charles River Campus," he said in an email. "The University has always considered Kenmore Square to be a commercial area and not an academic or a research space."
BU sold the Hotel Commonwealth to a partnership between Fundamental Advisors LP and Sage Hospitality for about $79 million, according to a Dec. 20 BU press release.
"The sale of the Hotel Commonwealth represents an important step forward in fulfilling our long-term vision of transforming Kenmore Square into a vibrant destination," said Gary Nicksa, BU senior vice president of operations, in the press release. "We look forward to collaborating with Fundamental Advisors and Sage Hospitality, who have a deep interest in the community and a proven track record of working together productively in the hospitality space."
Riley said BU has been developing Kenmore Square for about 40 years.
"Kenmore Square has been dramatically improved," he said. "It used to be not a very safe center. There were lots of night clubs and other things there … BU participated in and played a big part in the renewal and improvement and transformation of Kenmore Square from the 1970s, beginning with the anchoring of the book store in Kenmore."
There are no further plans for development in Kenmore at present, Riley said.
BU offered students discounted rates at the hotel for vacation housing during breaks in the academic year.
Riley said discounted vacation housing will continue to be offered to students under the new ownership.
Kim O'Connell, a sophomore in the College of Communication, said she thinks discounted vacation housing is important to students.
"If that's what's best for the school and that's what they think they needed to do then that's fine," O'Connell said. "I don't really see anything wrong with it as long as students still have access to vacation housing."
BU has multiple options for vacation housing depending on the number of students in need, and they will still have a place to stay during breaks, Riley said.
College of Arts and Sciences sophomore Margel DiMaggio, said not many students knew that BU owned the hotel.
"I don't really know anything about it," DiMaggio said. "I don't really have any preconceived feeling about it, especially because I didn't know that we even owned [the hotel]."
Mike Powell, a CAS junior, said he trusts the school officials to make such decisions.
"I don't think their selling it should have any effect on us, but it'd be nice to maybe get a kickback from it," Powell said. "I feel like they [BU officials] handle things like that all the time, so they know what they are doing and what is right for students."