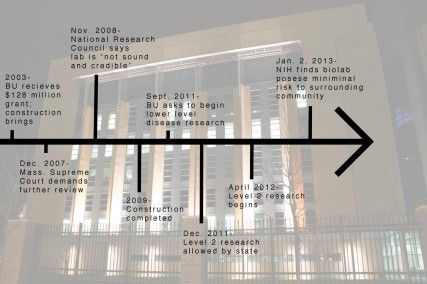 Although the National Institutes of Health handed down a decision affirming Boston University's National Emerging Infectious Diseases Laboratories poses minimal risk to the surrounding community, the opposition remains skeptical of its safety.
Councilor Tito Jackson, of Roxbury, said he is disappointed by the assessment and does not support the biolab because it poses risks to the city, particularly low-income areas.
"I am a proponent of biotechnology and the life science industry," Jackson said. "What I am not a proponent of is exposing the neighborhood, low-income housing and the whole city of Boston to potential airborne diseases."
The biolab, if approved, will be used for research on biosafety Level 3 and Level 4 diseases such as SARS, anthrax, Ebola, pneumonic plague and 1918 H1N1 influenza.
Construction on the biolab was completed in 2009, but community opposition prevented it from beginning research on dangerous pathogens.
Attempts to begin Level 3 and Level 4 research have been met with controversy, including court cases and demands for safety review, said Ellen Berlin, BU spokeswoman for the NEIDL.
In April, researchers began work with biosafety Level 2 pathogens, such as tuberculosis.
On Jan. 2, NIH issued a final supplementary risk assessment declaring the biolab to pose a minimal risk to the community, according to a BU Medical Campus press release.
Berlin said BU is satisfied with the findings of the supplementary risk assessment.
"The process was very thorough and provided ample opportunity for community involvement," Berlin said. "An important part of the process was that esteemed scientists believe that the methodology of the review was sound."
The NEIDL must now file for a certificate of from the Massachusetts Secretary of Energy and Environmental Affairs, and also attempt to gain approval from the Boston Public Health Commission, Berlin said.
Jackson said he has hosted events to raise awareness and has been active on the city council, which hosted a hearing to hear community members' opinions regarding the NEIDL.
"The people who live in that neighborhood deserve to be respected and deserve to have their voices heard," he said. "They deserve to not be muted when it comes to a critical, crucial and life-affecting decision like this."
The final risk assessment reviewed scenarios involving potential negative health consequences due to unintentional or malevolent events, such as the exposure of laboratory workers or the general public, according to the release. The risk assessment also considered the same scenarios at alternative biolab locations.
In the release, Interim NEIDL Director John Murphy said the review was exhaustive and a panel of eminent scientists on the Blue Ribbon Panel confirmed its findings.
"The NEIDL will be an important addition to life science research in our region and its work to improve public health will have local, national and global impact," Murphy said in the release.
Jackson said he will continue to speak out against the biolab and confer with residents of the South End and Roxbury areas.
"We have been listening to community members and neighbors who just lost in all of this," he said. "I haven't spoken to any resident who is a proponent."