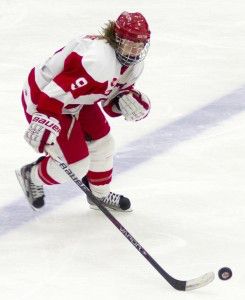 On multiple occasions during her first year as a member of the No. 5 Boston University women's hockey team, freshman forward Sarah Lefort has played an integral part for her team. Lefort has scored multiple game-winning goals, is a leading point scorer and has made herself known on a line laced with some of BU's (15–3–3, 10–2–1 Hockey East) best and most prominent players.
During Wednesday night's game against No. 10 Northeastern University, however, Lefort had one of her best performances as she tallied her first collegiate hat trick during BU's 5–4 win over the Huskies (11–9–2, 5–6–1 Hockey East) at Walter Brown Arena.
"It was pretty much a team effort," Lefort said of her achievement. "The two first [goals] were power-play goals, and I think we just moved the puck well, and I happened to tip it in off of some shots, so it was pretty good. And the last one was just a good shot."
By the end of the game, Lefort had not only tallied a goal in each period, but she had also become the leading goal scorer for the Terriers with 13 and notched her first collegiate power-play goals.
According to Durocher, much of Lefort's success has come from the Ormstown, Quebec native working on the same line as junior co-captain Marie-Philip Poulin and senior forward Jenelle Kohanchuk.
"I complimented [her line] after the game," Durocher said. "I talked about how unselfishly they share the puck, and I complimented them for that because they do a fantastic job of moving it around."
Furthermore, Durocher pointed out that each member of the line has served her own purpose during the game.
"Marie-Philip is the kind of person who starts it, and Jenelle has great vision for the game and moves the puck," Durocher said. "Sarah, tonight, picked up a backhand rebound on the first one and made a beautiful shot on the last one."
"When they're sharing the puck … people are going to get opportunities and she took advantage of them tonight," Durocher added.
The line's statistics prove Durocher's point, as Lefort, Kohanchuk and Poulin lead the team in goals with 13, 12 and 11, respectively, and are in the top four for points scored.
During Wednesday's game against the Huskies, Kohanchuk and Poulin took part in Lefort's career-game. With her team on the power play, Lefort gave the Terriers an early 1–0 lead at 5:59 in the first after Kohanchuk picked up the rebound from a shot taken by Poulin. Kohanchuk then shuffled the puck over to Lefort, who notched it by Northeastern's Chloe Desjardins on the netminder's glove side.
During the third period, Kohanchuk assisted Lefort once again when Kohanchuk forced a turnover that allowed Lefort to score, giving the Terriers their fifth and final goal.
With Northeastern having pulled the game to within one goal in the waning minutes of the contest, Lefort's goal also became her team-leading fifth game-winning tally.
"I think we felt like she was a kid who was a big power winger, who could shoot the puck extremely well," Durocher said of his expectations for Lefort. "With some of the veteran players we had coming back, there was also an opportunity that she, or a couple of her teammates, were going to be on pretty significant lines."
"Nobody does it by themselves, and when you're playing with top players, that's really positive for her. She's taken advantage of the opportunity," Durocher added.
Like Durocher, Lefort associated her early success with the opportunities she has received thus far.
"I just came in [to BU] expecting to work hard, and obviously not expecting much as a freshman," Lefort said. "But Coach gives people opportunities and you just have to grab them."