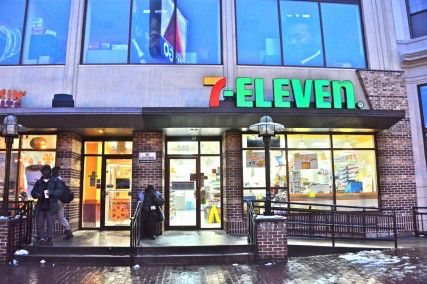 To the displeasure of local panhandlers, an ordinance restricting panhandling in potentially dangerous sections of Boston will be proposed next week in front of the city council, officials said.
Sheila Dillon, director of the Department of Neighborhood Development, said City Council will hold public hearings for the proposed ordinance, and if it passes, Boston Mayor Thomas Menino will sign it.
"The ordinance will limit aggressive panhandling and it will place some limitation on where panhandling will take place, based on safety concerns," Dillon said.
According to a report by the National Law Center on Homelessness and Poverty, the U.S. saw a seven-percent uptick in panhandling prohibition laws between 2009 and 2011.
Jauvhon Price, a panhandler who opens doors for customers in front of the Kenmore Square 7-Eleven, said he hopes panhandling is not restricted in the city.
"At least I'm doing something for someone," Price said. "I'm not robbing or stealing. I'm only asking, and the person I'm asking can say yes or no. I've got no shame in my game."
Price said in his year-and-a-half of panhandling, he usually gets nominal amounts of money — typically a few cents or a dollar.
One day before Christmas, Price said he got a $100 bill.
The timetable for when this ordinance could go into effect is hazy, and the legislative process could mean passage will not occur for a few months, Dillon said.
This proposal came after an influx of complaints about aggressive panhandlers during 2012. The mayor's 24-hour constituent service line received 787 calls about panhandling between January and November of
2012, Dillon said.
These numbers spurred Menino's office to set up a task force several months ago to address the problem, she said.
Through aggressive action by groups such as the American Civil Liberties Union,  panhandling has been largely held up as a constitutional right.
Dillon said Menino is not looking to impede rights, but simply looking to ensure safety for residents of Boston.
"I really need to state that panhandling is a protected free speech activity under the Constitution," Dillon said. "The mayor is a champion for the poor, and he's not looking to limit people's rights."
Councilor Michael Ross, of the Fens, said he agreed with Menino that action needed to be taken against aggressive panhandling.
"The area that needs to be looked at is people walking on roadways," he said. "There are areas where it's really dangerous to be selling flowers or asking for money."
Ross also said the focus of the ordinance is not to restrict people's rights to free speech, but rather to address safety concerns from citizens.
"No one is trying to stop people from panhandling. That's their right," Ross said. "If we're going forward, it's to stop people from walking on dangerous roadways."
In his statement in the press release, Menino said the recent swing in panhandling can largely be attributed to the loss of substance abuse rehabilitation programs and mental health programs.
Dr. Stephen Brady, director of the mental health and behavioral medicine program at Boston University, said one-third of the homeless population suffers from mental illness, and at least half have had a
history with substance abuse.
But Brady said he disagreed with the idea that the lack of rehabilitative programs and institutions are wholly to blame for the population of aggressive panhandlers.
"This is a complex problem that relates to the availability of mental health and substance abuse treatment, and the migration of mentally ill people to bigger cities," he said. "There's never just one reason, and it's naïve to think it's just that simple."
Large cities with burgeoning homeless populations, such as San Francisco and New York, already have laws in place to restrict or constrain aggressive panhandling, Brady said.
The city council of Colorado Springs instituted a panhandling ban in 2012, but legal action has temporarily lifted the ban.
The mayor's office is not only putting together the ordinance, but it is also planning to work with nonprofits to increase community outreach and awareness, Dillon said.
"We're going to release a public education campaign about panhandling so that people panhandling won't be vilified," Dillon said. "But those who want to be generous will be able to give, but under safer
conditions. We're going to try to educate the public on better ways to
help."
Lars Thorson, a sophomore at the Berklee School of Music, said he panhandles — busking is the term her prefers — by playing the violin on the street for cash.
He said he understands a need to cut down on panhandling, but doesn't want to see an ordinance that will cut down on spots to play.
"I fully agree that people begging on the street for money is a pain," he said. "But busking is different, its a way for us to get out and play and interact with people. I don't think it's hurting anybody."