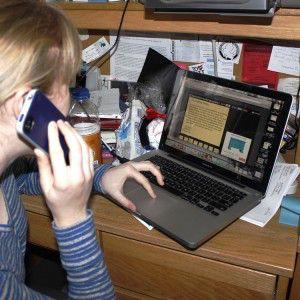 If walls could talk, what would they say? What about appliances? With the rapidly developing technological field, this concept may soon become a reality.
Although household appliances may not be able to talk now, they will be able to connect to smartphones, tablets and the main databases of the companies that created them.
At the three-day Consumer Electronics Show in Las Vegas beginning Jan. 8, manufacturers such as Whirlpool and LG introduced new household appliances capable of connecting to their owners' smartphones and tablets. These new appliances will use Wi-Fi networks and alert consumers to change filters and schedule maintenance. Others will allow owners to send emails, play music and use Bluetooth technology.
The conference debuted other emerging technologies, such as touch-screen washing machines with "smart diagnosis," touch-screen refrigerators that hope to revolutionize food management and app-controlled robotic vacuums. While these technologies serve widely different purposes, they do have a common goal, aside from convenience they will eventually cut back energy consumption and costs for consumers.
What is a 'smart appliance'?
A smart appliance uses sensory technology to adjust itself according to electricity prices and available energy, according to SmartPlanet, a website that explains technology and business. For example, a thermostat may automatically lower its temperature during a month that heating prices are high, saving the consumer money and preserving energy.
These appliances are generally hooked up to Smart Grids. According to Smartgrid.gov, a Smart Grid is a digital technological device that allows for communication between the utility or appliance and its customers. Similar to the Internet, Smart Grids will have controls, computers, automation and the coordination of new technologies and equipment. However, unlike earlier technologies, these electrical grids will respond digitally to electrical demands.
These Smart Grids will be the main databases for many upcoming smart appliances and will help control energy intake based on abundance and cost. Ultimately this will reduce monthly bills and conserve energy.
Cutting back on energy consumption 
While these new contraptions do hold some "cool" factor, the companies behind them are focused on reducing overall energy usage.
The Commonwealth of Massachusetts is ranked 16th for total residential energy usage in the entire nation, putting it within the top 30th percentile of residential energy users, according to the sustainable energy websiteeredux.com.
The United States Energy Information Administration calculated that 30.6 percent of Massachusetts' total energy consumption is within the household, which happens to be the second largest consumer, only falling 2.2 percent short of the number one consumer, transportation. These different developers plan to reduce these numbers on a national scale through new smart technology inventions.
How can 'smart appliances' help reduce our energy intake?
The new smart appliances debuted at the Consumer Electronics Show will predictably decrease energy intake in the average household. These appliances will allow consumers to control household settings in accordance with their daily lives, even while away from home.
Some appliances, such as the Nest thermostat, will learn the consumer's schedule from the adjustments he or she makes to it, according to Phys.org, a technology and research news service. It will also sense the consumer's presence and consequently adjust the temperature when he or she is home.
This particular thermostat can also detect when no one is home and adjust itself using its 'Auto-Away' program. Appliance programs such as this can lower heating bills and conserve energy while keeping your home at its desired temperature.
In addition to altering one's household heating, some smart appliances at the conference will allow the consumer to turn off lights through his or her smart phone or tablet. This allows owners to digitally turn lights off that were accidently left on, resulting in decreased electricity use and costs.
Pricing
Although these technological advances may be convenient, new products can also be costly.
"If smart technology does follow the plans of phones and tablets then people will spend more money as they become corralled into a tighter marketplace with fewer options," said Mark Correia, a Boston University professor of instructional technology, in a phone interview. "Many of the smart appliances currently being developed are expensive and serve little purpose."
Correia used "the Hue," an app-controlled LED light bulb developed by Philips, as an example.
"It costs $299 for three light bulbs and while this looks very cool, it is expensive considering it basically either dims the bulb or changes the color," Correia said.
Jeffery Fox, a School of Education junior,  said it is important to remember that once-expensive appliances are now small expenses for the average American.
"Eventually, this technology will be affordable for everyone, just based on how most technology costs change," Fox said. "DVD players were hundreds of dollars 15 years ago, and now they're often less than $20. More research will be done, the technology will become more efficient and cost effective and most people will be able to afford it."
Other uses for "smart appliances"
While the abiliy to turn on a dishwasher from another room will not reduce an electric bill, it might make day-to-day activities more convenient.
Drew Salad, an SED sophomore, said  these new systems not only make life more convenient and affordable, but can also make life safer.
"Now people can control heat, light and check on the status of their house from afar on their own," Salad said. "It's very helpful for people who are interested in staying connected with their belongings and family while they may be away."
The creation of "smart" security systems, as described on the ADT website, allows consumers to check the safety their households before they arrive home.  With these systems, homeowners can arm or disarm alarm systems via remote control.  In addition, households with an abundance of smart appliances — also referred to as "smart houses" in a National Multiple Sclerosis Society article — can increase the independence of those living with decreased mobility.
Boston University Sustainability Program
Through the [email protected] program, there have been several ways that BU has attempted to cut back on its carbon footprint. With regards to energy usage, BU has changed the lights that are used, and has even come up with 'Computer Energy Settings Recommendations' to help cutback on energy use with regards to computers.
College of Communications junior Alex Wagner, said he believes this program is  making a difference at BU.
"BU has definitely done quite a bit with regards to sustainability," Wagner said. "Everyone seems to be dedicated to finding alternates to energy usage and using less energy. BU is definitely heading in the right direction."
In the past six years, BU has gone from using 1.60 Million MMBtus to approximately 1.45 Million MMBtus with just a few simple changes around campus, according to the statistics provided on the BU Sustainability website. Some of these small changes include Mugar Library lighting retrofits, the 'Turn Off the Lights' movement and Computer Energy Saving recommendations.
Although BU has not gotten too involved with the "smart appliance" movement just yet, they too are showing genuine concern for energy usage, and are trying their hardest to cut back on the university's intake.
The future of smart appliances 
Hopefully within a few years, smart appliances will become readily available to the average consumer. With this new technology, consumers will be alerted when energy usage is at its highest during the day and will automatically cut back its own consumption, allowing the user to know that he or she is using that appliance in the most energy-efficient, inexpensive way possible.
Smart appliances may seem like an expensive, futuristic toy now, but BU technology education professor Katya Vigil said they will change in the future.
"As this new technology hits the market, prices will come down, and the technology will become commonplace," Vigil said.
However, Correia said he is more skeptical. He said smart appliances are too restrictive and that people should are capable of creating their own smart technology without investing in major companies.
Although the topic of smart appliances can be controversial, with the fast pace of technological developments, soon it will be normal for our lights to turn on when we arrive at home, or for our homes to be set at our favorite temperature the minute we step inside.